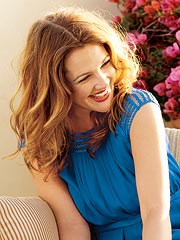 What about skin care?
I'm trying to be better about sunblock. Whenever I get a tan, a mustache comes out! It's not sexy.
And makeup?
I wear a lot more eyeliner now. I used to be more about red lips and pale skin. Now I'm sort of more about nude lips and eyeliner.
What's your basic beauty routine?
I always wash my face at night. I'm a face-washing obsessive-compulsive. I'm of a one-track mind to have clear skin. It makes me feel good.
Any home beauty remedies?
No. If I get a zit, I pretty much just have to cry.
How does being happy contribute to looking good?
I just think happiness is what makes you pretty. Period. Happy people are beautiful. They become like a mirror and they reflect that happiness. If somebody walks in the room and they're drop-dead gorgeous and sexy, it's really fun to look at. But if someone is giving of their spirit and they make you laugh and feel good, that's a whole other level of beauty.
What gets you through the times when being happy is a challenge?
I talk to my friends a lot. I go to therapy. It's about working through it, because if you don't, it'll rear its ugly head at some point.