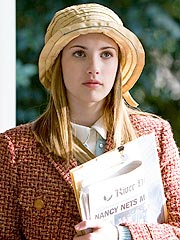 Melinda Sue Gordon / Warner Bros. Pictures
How did you celebrate turning 16 in February?
I had a sweet 16 party in L.A. We had photo booths and a DJ. I have all the pictures. We had a Tarot Card reader, a psychic there. It was really, really cool. We hung out and ate and danced and talked.
And what about that other rite of passage – getting your driver's license?
I took the test a month and a half ago and I failed! I blocked a turn lane. I haven't gone back. It was, like, during rush hour traffic and I was very nervous! After I get my license, I'll get a car.
Maybe a flashy red convertible?
I have to get something safe. I really like the Volkswagon Touareg.
Do you feel pressure to be thin or look a certain way because you're famous?
I don't. I'm very happy with myself. I don't really fall into the peer pressure or media pressure. I don't diet. I probably should exercise more for my health. I do just anything with my friends, run on the treadmill or do yoga or go to a dance class. And I take tennis.
Is there anyone in Hollywood you look at as a role model?
I really like Drew Barrymore and Reese Witherspoon. Both of them are really great actresses and have had great careers and have been acting since they were younger. It would be cool to work with them.
Other young stars make headlines for their partying. Ever worry it could happen to you?
It doesn't freak me out. I'm not the kind of person who would fall into that kind of stuff.