The bleachers are already set up outside Los Angeles's Shrine Auditorium for Sunday night's 59th annual Emmy Awards – but are the nominees and their presenters ready?
PEOPLE caught up with several of them as they prepare for TV's biggest night.
"I try and do a few things,"
Desperate Housewives
star
Felicity Huffman
, a nominee as best actress in a comedy series, told PEOPLE inside the Kate Somerville White Room Emmy suite at the designer's West Hollywood boutique.
"I come here to Kate Somerville, I get dressed and take a shower, and that's pretty much the order of the things I do," says Huffman about how she prepares for Emmy night. "I have a great stylist, Linda Medvaine, and she pulls up to my house with a bunch of dresses. I look for something that I feel good in and is comfortable.
Joely Fisher
, who is serving as a presenter with her
Till Death
costar Brad Garrett, says she won't be nervous about her Emmy night duty. "I'm only nervous about flying in airplanes," she tells PEOPLE. "I had my baby in my bed, I can leap off tall buildings. I'm not nervous. I'm nervous that people will maybe not like what I'm wearing, [but] who cares?"
Fisher, also at the Somerville suite, said, "I have my whole look planned out head to toe – bag, jewels, everything. It's almost like a person is standing in my bedroom, ready to be worn."
While she won't divulge what she'll wear, Fisher does say, "The last time I was at the Emmys, I wore Pamela Dennis. It was chocolate brown, had feathers and sequins. It was dramatic and lovely."
Debra Messing
, asked if she's got her look ready for Sunday, tells PEOPLE, "I have, and I'm not going to share it!"
Masi Oka
, who is up for an Emmy as supporting actor in a dramatic series (
Heroes
), told PEOPLE at Friday's official reception by the TV Academy for nominees at the Pacific Design Center that receiving the nod has "been a fun and very fast experience. I had to go to work every day, and I didn't really get to absorb it and enjoy all the festivities. It hasn't sunk in yet. I'll catch up this weekend."
Two And a Half Men
costar
Conchata Ferrell
tells PEOPLE that when it comes to being nominated in the same supporting-comedy-series-actress category as castmate
Holland Taylor
, "We have made an agreement. If one of us wins, we're going to mud wrestle for [the award] on the set on Monday."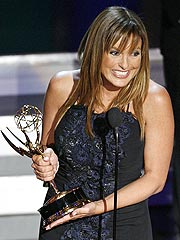 Mike Blake / Reuters / Landov
Law & Order: SVU
star
Mariska Hargitay
, commenting on what will happen if she wins as dramatic series actress again this year, tells PEOPLE, "Well, I have a one-in six-chance. I'll put [the Emmy] right next to the other one!"
Denis Leary
, in the running for lead actor in a drama series (
Rescue Me
), half-jokingly told the Associated Press about the nominees' reception, "The reason everybody's here: You get a swag bag. That's why I'm here ... There's enough stuff in there – there's probably eight or nine things – that my wife gets something, and then we have something that we spread around with the relatives. So everybody's happy at the end."
Leary said he's rooting for
Sopranos
leading man
James Gandolfini
to win in their category. "They should give him an Emmy that's even bigger than him, a chocolate Emmy that he can eat," Leary said of the leading man who played New Jersey Mob boss Tony Soprano. "I just think he's the greatest character in the history of television."
•
Reporting by MONICA RIZZO and NICHOLAS WHITE