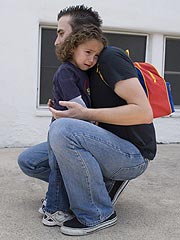 That devotion is something Jody Democko – the boys' mother – appreciates even as it sometimes pains her to watch her brother bring up her sons. "It hurts," says Jody, 23, who now lives nearby and visits several times a week. "But the boys are better off. It's more stable. He's always been the more responsible one." (The boys have little contact with their birth father.) Democko, who periodically asks his sister to take a home drug test when she comes over, has mixed feelings about her role in the boys' lives. "They sometimes call her Mom," he says. "But I can't count on my sister for anything, so the way I look at it, it's just me and kids."
Relying on himself is nothing new. He was just 6 when his father walked out, leaving the family to fend for themselves, living for years in a cramped motel room. Though his grandfather supported them, Democko helped out with chores and a part-time job. "That experience made me realize what kind of person I wanted to be," Democko says now. He and Jody, once close, drifted apart after she ran away at 15 and eloped in Las Vegas – but that didn't stop Democko from falling in love with his nephews from the moment they were born. "The bond was instant," he says.
Now, Democko is doing his best to be the kind of father he never had. Between his $14-an-hour job and his $2,000 monthly stipend from social services, many weeks it's a stretch to make ends meet. He's also put some dreams of his own on hold. In a few years, when Chris is old enough to catheterize himself, Democko hopes to start night classes, maybe learn about the film industry. "I didn't get to go to college, but I want to," he says. "My time will come." For now, he's too busy to think much beyond the boys' immediate needs. "The only time to myself is from 9 p.m. to midnight," he says. "I'll check e-mail or watch a movie. When I need to scream, I walk out the front door and hold it shut." Still, Democko has no regrets. "I enjoy being a dad so much," he says. "I don't want to miss a second of it."