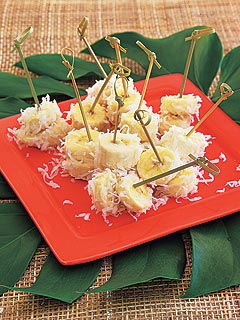 The Staycations:
•
An Island Fantasy
(see below)
•
An Aspen Retreat
•
A London Escape
An Island Fantasy
Banish winter chill – and "Jingle Bells" – for a night with a Caribbean fiesta. "There's nothing wrong with tradition," says Food Network and Galavisión star Ingrid Hoffmann. "But it's great to do the unexpected." Especially when it is so easy. "It's all make-ahead food: big bang for little effort," says the Colombian-born chef. A salsa soundtrack and beachy decor completes the theme. "I envisioned a Robinson Crusoe shipwreck – let's make it a fantasy. It will surprise people and put them in a fun mood."
All recipes courtesy Ingrid Hoffmann
Menu:
• Grilled Pork and Pineapple Skewers with Achiote Sauce
• Shrimp and Mango Adobado Skewers
• Snappy Scallop Ceviche
• Banana Bites with Toasted Coconut
Grilled Pork and Pineapple Skewers with Achiote Sauce
Serves 4
3 tbsp. vegetable oil
1 tbsp. achiote (annatto) seeds
½ cup red wine vinegar
5 garlic cloves, coarsely chopped
1 tbsp. seeded and finely chopped jarred aji Amarillo peppers or fresh habanero
2 tsp. ground cumin
2 tsp. kosher salt
2 tsp. freshly ground pepper
1 lb. pork loin, cut into 1-inch cubes
1 pineapple, peeled, cored, and cut into 1-inch cubes
1 large red onion, quartered, halved, and cut crosswise
1 head butter lettuce, such as Bibb or Boston
Lime wedges, for serving
1. Put wooden skewers in a pan of water for 30 minutes, so they don't burn on the grill.
2. Heat the oil in a small saucepan over medium-high heat. Add the achiote seeds. Turn off the heat and let the seeds steep until the oil turns a vibrant orange-red, about 5 minutes. Strain the oil through a fine-mesh sieve into a blender: discard the seeds. Add the vinegar, garlic, aji Amarillo, cumin, salt, and pepper. Cover the blender and puree until well combined.
3. Place the pork in a resealable gallon-sized plastic bag. Add the achiote marinade, turn the bag to coat the pork, squeeze out the air, and seal. Refrigerate for at least 4 hours or up to overnight.
4. Remove the pork from the marinade; discard the marinade. Thread the pork onto the skewers alternating with the pineapple and red onion. Preheat an outdoor grill or grill pan to medium-high (you may also preheat the oven broiler.) Grill (or broil) the pork skewers until they are browned on all sides, 4 to 6 minutes total cooking time. Take care not to overcook or the pork will become tough and dry. Serve the pork skewers on a bed of lettuce leaves and garnish with lime wedges. Pull the pork skewers to a lettuce leaf and eat like a taco. For a great presentation, stick the skewers into a whole pineapple and put on the table with the lettuce and lime on the side.
•
Shrimp and Mango Adobado Skewers >