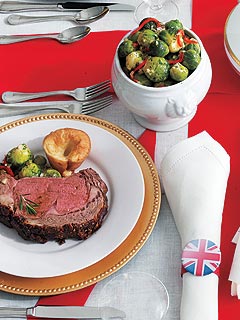 The Staycations:
•
A London Escape
(see below)
•
An Island Fantasy
•
An Aspen Retreat
A London Escape
Forget the cross-Atlantic trip (and that exchange rate!) – you can create London charm at home, says L.A. party planner Jennifer Sbranti. "Posters with historical landmarks like Big Ben or the Tower of London set the scene. Guests can even take photos with them." Ignore clichés about British food: Hearty roast beef suppers and rich desserts are where this cuisine shines. And the music can't be beat. "Create a mix of the Beatles, the Who, Tom Jones and Dusty Springfield," says Sbranti. "Add in pop and house if you want to dance."
Menu by Jennifer Sbranti, cofounder of hostesswiththemostess.com. All recipes can be found on Myrecipes.com.
Menu:
• Yorkshire Pudding
• Peppercorn-Crusted Standing Rib Roast
• Marinated Brussels Sprouts
• Sticky Pudding
• Mulled Wine
Yorkshire Pudding
Makes 1 dozen
Begin this recipe 30 minutes before the roast is done (see rib roast recipe). Bake pudding while roast is standing.
1 ½ cups all-purpose flour
¾ cup water
¾ cup milk
3 large eggs, beaten
¾ tsp. salt
6 tbsp. rib roast pan drippings (see rib roast recipe)
1. Whisk together first five ingredients until smooth. Cover and chill 30 minutes.
2. Spoon ½ tbsp. pan drippings into each of 12 popover or muffin cups, and tilt to coat. Bake at 425º for 5 minutes. Quickly pour cold batter into hot pan; do not stir.
3. Bake for 15 minutes; reduce oven temperature to 350º, and bake an additional 15 minutes or until golden.
*Note: If pan drippings are not sufficient, supplement with olive oil.
Coastal Living, Nov. 2004
•
Peppercorn-Crusted Standing Rib Roast >