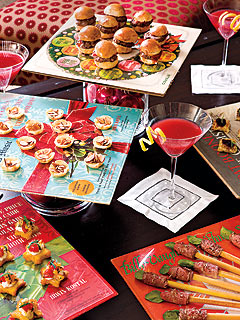 The Menus:
•
Cocktails for 20 Under $200
(see below)
•
Cookies for 20 Under $100
•
Dinner for 15 Under $300
Cocktails for 20 Under $200
People will say, 'What if so-and-so doesn't like my champagne? He's used to Dom Perignon!'" says Weiss. With a cocktail party, she advises, "what you're serving is what you're serving. Let people be gracious. If they're not, don't invite them again." In addition to nonalcoholic drinks, she recommends having one signature cocktail, such as the "Ruby Slip Martini" she created for Seal and Heidi Klum, which combines vodka, limoncello (Italian lemon liqueur), raspberry and peach juices. For a party of 20, she thinks 30 pieces of five passed hors d'oeuvres is right. Have a beef, chicken, fish and two vegetarian. "Don't overdo it with 10 choices; five keeps up the excitement of 'What's next?' " Again, she goes for ease: In the assortment at left, she bought mini buns, frozen pastry shells and other conveniences. Lastly? "Great music. Only about 45 minutes of 'holiday' music then change it. Reggae? Motown? Classics? Rap? Know your guests well enough to know what they like."
The Menu:
• Cocktail: Ruby Slip
• Warm Brie in a Crispy Cup
• Grilled Cheese Sandwich with Fig Jam
• Mini Hamburgers
• Polenta Stars
• Rare Roast Beef on a Grissini Bread Stick with Roasted Tomato Aioli
Cocktail: Ruby Slip
Recipe for 1 drink
1 fl. oz vodka
½ fl. oz limoncello
2-3 fl.oz fresh raspberry juice
2-3 fl. oz fresh or canned peach juice or nectar
Fresh lemon rind and fresh raspberries, to garnish
Put the vodka, limoncello, and juices in a cocktail shaker and mix well with cracked ice. Strain into a glass. Garnish with lemon rind and raspberries. Serve immediately
•
Warm Brie in a Crispy Cup >