Pairing wine with food can be intimidating, says L.A. chef Gerry Garvin. Here's all you need to know: 1. Uncork some not-too-pricey wines. 2. Try them. 3. Have fun. "There is nothing wrong with opening a bottle, saying, 'I am not sure about this one,' then opening a second," says Garvin, who matches wines with recipes in his new book
Dining In
. "The first bottle could work for the second course or another day."
People asked the host of TV One's
Turn Up the Heat with G. Garvin
to put together some surefire hits. "When I think about a pairing, I think about the ingredients: How is the dish seasoned?" For the steak entrée (with onion, rosemary and thyme), Garvin chose three hearty reds, including a $10 Malbec from Argentina. "It has a hint of spice but isn't too spicy." Making a match might seem tricky but, he insists, "There is no right or wrong. Enjoy the mystery of experimenting."
First Course: Tomatoes and Mozzarella Salad
The Wines:
The meal starts with the lightest wines – and a suggestion to "engage your guests. It adds another element when people express opinions."
1. Yalumba Y Series Sangiovese Rosé, 2007, Australia, wine.com; $13.29
2. Kim Crawford Sauvignon Blanc, 2007, New Zealand, wine.com; $16.99
3. Mulderbosch Sauvignon Blanc, 2007, South Africa, wine.com; $19.99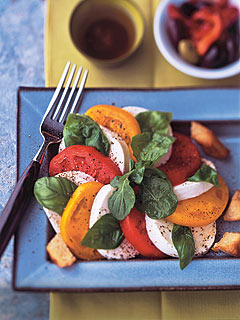 Tomatoes and Mozzarella Salad
Serves 4
5 bias-cut baguette slices
1 tbsp. unsalted butter, softened
2 red heirloom tomatoes, sliced into small rounds
2 yellow heirloom tomatoes, sliced into small rounds
4 medium balls fresh mozzarella, cut into small rounds
3 cups fresh arugula leaves
1 cup fresh basil leaves
¼ cup balsamic vinaigrette salad dressing
1. Preheat oven to 425º. Spread one side of each baguette slice with some of the butter. Arrange baguette slices, buttered sides up, on a baking sheet. Bake for 3 to 5 minutes or until ightly toasted. Remove from oven; set aside. Cut into bite-size pieces for croutons.
2. On a large platter arrange tomato and cheese slices alternately in a circle. In a bowl toss together arugula, basil and balsamic vinaigrette. Serve greens mixture with tomato and cheese slices, Sprinkle with croutons.
Second Course: Pan-Roasted New York Steak with Onions and Warm Spinach
The Wines:
Garvin's picks "will not overpower the steak, so the palate is not confused," he says. Wines with "a high fruit quality, I felt would be great."
1. Crios de Susana Balbo Malbec, 2007, Argentina, empirewine.com; $9.95
2. McWilliams Shiraz, 2006, Australia, wine.com; $10.79
3. Robledo Seven Brothers Sauvignon Blanc, 2006, rfwines.com; $16
Pan-Roasted New York Steak with Onions and Warm Spinach
Makes 4 servings
3 tbsp.s cooking oil
2 white onions, sliced into ½ inch rounds
1 tbsp. minced garlic
1 tsp. chopped fresh rosemary
1 tsp. chopped fresh thyme
Kosher salt and cracked black pepper
4 8-oz. ounce beef New York strip (top loin) steaks
2 tbsp.s unsalted butter
2 tbsp.s diced shallots
9 ounces fresh spinach
1. Preheat oven to 375º. Heat 1 tbsp. of the oil in an ovenproof sauté pan over medium heat. Add the onions, garlic and herbs, and season with salt and pepper. Place the pan in the oven and roast for 15 to 20 minutes or until the onions are golden and tender, turning the onions once.
2. Meanwhile, season the steaks well with salt and pepper. Heat 1 tbsp. of the oil in a sauté pan and cook the steaks over medium heat for 4 minutes on each side or to desired doneness. Remove steaks from pan.
3. In a large sauté pan over medium high heat combine the butter, shallots, and the remaining 1 tbsp. oil. Sauté for 2 minutes or until shallots are just softened. Quickly sauté the spinach, just to wilt it a bit.
4. Slice the steaks; arrange the onions on top of the steak and top with spinach.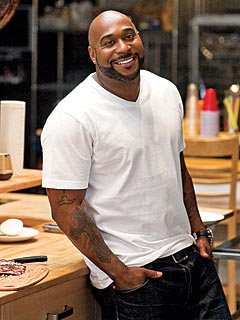 Third Course: Dark Chocolate Mousse
The Wines:
"If paired incorrectly, you lose the flavor of chocolate. These wines complement it but stay with the meal – you don't want a drastic change."
1. Gnarly Head Old Vine Zinfandel, thewinebuyer.com; $10.99
2. Dow's Fine Ruby (port), wine.com; $12.29
3. Grgich Hills Napa Valley Merlot, 2004, napacabs.com; $16.95
Dark Chocolate Mousse
Makes 6 servings
½ cup milk
2 cups whipping cream
4 egg yolks
½ cup sugar
1 tbsp. vanilla
10 ounces dark chocolate, chopped
Sweetened whipped cream
Shaved dark chocolate
Fresh raspberries
1. In a small saucepan combine he milk and ½ cup of the cream. Bring to boiling on high heat.
2. In a large bowl whisk together the egg yolks and sugar until well combined. Whisk a small amount of the milk mixture into the yolk mixture. Gradually whisk in remaining milk mixture. Add the vanilla and continue whisking until well combined. Strain the mixture through a fine mesh sieve.
3. While still hot, pour the mixture over the chopped chocolate. Let stand for 5 minutes. Whisk mixture until smooth. Set aside and let cool.
4. Whip the remaining 1½ cups cream until soft peaks form. When the chocolate mixture is no longer warm to the touch, stir a small amount of whipped cream into the chocolate mixture to lighten. Fold in remaining whipped cream.
5. Scoop the chocolate mousse into six chilled 6-oz. glasses. Set in the fridge for at least 1 hour. Top with additional sweetened whipped cream, shaved chocolate, and fresh raspberries.
Recipes and wine choices by Gerry Garvin, host of TV One's Turn Up the Heat. From Dining In by G. Garvin, Meredith Books, October 2008; reproduced with permission.