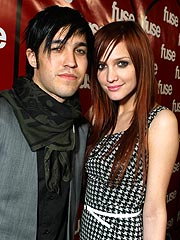 Eric Charbonneau / WireImage
On Ashlee Without Makeup
PW:
"[Without makeup,] she reminds me of when I was little in the summer."
AS:
"That's cute."
PW:
"There's a very specific moment, like, when I was driving in the car with my parents. I don't know. It just reminds me of it. I don't know why."
AS:
"It's cute. I like that. Thanks, babe."
PW:
"Sounds like [we're] some hokey couple in a magazine."
On Giving – and Getting – Fashion Advice
PW:
"It's kind of like college where [her outfits are] on a grading system where I'll be like, 'That's an A or B,' and I'm kind of on a pass/fail system with her.'"
AS:
"He has great clothes. If I want to go for, like, a dress, you'll dress a little bit nicer that day or something."
PW:
" I just try to accent whatever she has. I do. When we were getting styled for this [PEOPLE shoot] she had all these really cool things and then I was just kind of like, 'I'm like the whipped cream. The sundae's not good without whipped cream!' That's okay. I really don't mind being the whipped cream."
On Borrowing Each Other's Clothing
AS:
"I like his clothing line Clandestine [Industries]. It's really good. And I wear a lot of that stuff as well."
PW:
"I really borrow almost everything."
AS:
"We mix our clothes pretty much."
PW:
"I ruin her pants by wearing them. [When] I was on
Today,
I wore a pair of her pants."
AS:
"And I was in the back. I couldn't go out because he gave me his pants to put on and they wouldn't stay on. So he wore mine and I sat down in the dressing room."
PW:
"Yeah, she's a little too small."
On the Best Compliment They Give Each Other
PW:
"I got told my eyes looked really good at the shoot today."
AS:
"And I got told my boobs were great. That's pretty cool."
PW:
"I'm constantly bombarded with compliments by her, which is good. It's good to be bombarded in that way."
AS:
"Anything and everything is great."
On What They Do That the Other One Loves
PW:
"I really have a thing with matching underwear and bras."
AS:
"Yeah, you do!"
PW:
"I don't really know why, and I know most girls don't [match], but she wore, like, a polka-dot one once and that was awesome."
AS:
"I felt like Betty Boop."
PW:
"It was, like, old-school hot."
AS:
"I like everything that he puts on and I like him in nothing as well.
[To Pete:]"
Your mom's really gonna like that one."
For more on Ashlee & Pete, check out PEOPLE's 100 Most Beautiful issue, on newsstands now!