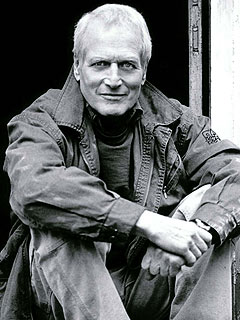 'He Was the Most'
Michael J. Fox and Newman both lived in the same Manhattan apartment building. He tells PEOPLE, "We were lucky enough to be neighbors in New York City and I'll miss our sidewalk conversations about politics, family, and open-wheel auto racing."
He also commended the actor's "enormous talent, wit, social conscience and innovative philanthropy." Fox, who suffers from Parkinson's disease, added, "I'll always be grateful for his friendship and generous support for Parkinson's research."
Melanie Griffith met Newman and his wife, Joanne Woodward, when she was just 17 and cast alongside the couple in the 1975 mystery
The Drowning Pool
. She also costarred with Newman in
Nobody's Fool
in 1994. "He was the most," proclaims Griffith. "The most giving, the most understanding, the most unique, the most handsome, the most philanthropic and sincerely the kindest man I have ever known. The world just lost one of our greatest human beings."
Sidney Poitier also teamed up onscreen with Newman and Woodward (in 1961's
Paris Blues
), and says, "His was an important life lived in ways that exemplified what good, caring human values look like in a truly decent human being. In his life and in his work, he was a giver – and never a taker."
Tim Robbins and Susan Sarandon each worked in films with Newman, and praised his humanity and sense of humor. "Paul Newman was a class act; smart, sexy, generous and kind," says the actress, his costar in 1998's
Twilight
. "He was committed equally to justice and pranks. He was something you don't hear mentioned often these days; a good man."
She also reveals he was a teacher: "He taught me to appreciate the home-grown tomato, championship badminton and chamber music. He will be missed."
Robbins, who shared the screen with Newman in 1994's
The Hudsucker Proxy
says, "The world has lost an angel. Philanthropist, humanitarian, a man of compassion, conviction and courage, an intelligence born of curiosity, an open mind, a beautiful heart, and a wicked sense of humor."
Robbins calls Newman "a hero of mine both as an actor and as a man" and was happy to have experienced Newman's passion for speed: "It was an honor to have known his wonderful spirit, to act with him, to laugh with him, and to sit in the passenger seat while he drove 100 mph with mischief in his eyes."
James Garner, who also costarred in
Twilight
(and worked with Newman on 1971's
Once Upon a Wheel
), says the legend's death has left him speechless: "This is such a sad time, I am truly devastated and there are just not enough words to express my sorrow."
Producers Bob and Harvey Weinstein call Newman an inspiration: "Paul was a great friend and role model for over 30 years. His beautiful spirit touched millions of people around the world. His work with countless charities and his creation of the Hole in the Wall Gang Camps is inspiring and a lasting legacy. We send the family our deepest condolences, especially Joanne who Paul loved so much."
'My First Leading Man'
Victoria Principal, who worked alongside Newman in the 1972 film
The Life and Times of Judge Roy Bean
, referred to the actor as "my first leading man" in a statement. She added that he "set the bar impossibly high for everyone after that. His generosity was real and inspirational to everyone who knew him and the world was a better place while he was here."
California Gov. Arnold Schwarzenegger saluted Newman for both his "cool" screen persona and his even greater sense of the world around him. "Paul Newman was the ultimate cool guy, who men wanted to be like and women adored," he said. "He was an American icon, a brilliant actor, a Renaissance man and a generous but modest philanthropist."
He continued, "He entertained millions in some of Hollywood's most memorable roles ever, and he brightened the lives of many more, especially seriously ill children, through his charitable works. Paul was one of a kind. The beloved film star will be missed by a world of fans and admirers. Maria and I send our thoughts and prayers to his wife, Joanne Woodward, his entire family and his many friends."
Sen. Hillary Clinton and former President Clinton also acknowledged Newman's good deeds in a statement: "Paul was an American icon, philanthropist and champion for children. We will miss our dear friend, whose continued support always meant the world to us. Our prayers and thoughts are with Joanne and the Newman family and the many people who Paul impacted through his endless kindness and generosity."