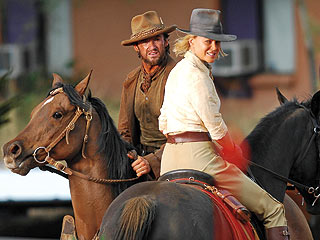 Stewart Cameron Laird / Splash News Online
How the Sexiness Began ...
FIRST GIRLFRIEND
"Martine Craswell, in kindergarten. My dad said, 'Oh, I always knew you were romantic because you were running in a race and Martine fell over and you stopped and went back and picked her up.' Chivalry was there."
FIRST KISS
"With Sarah Dowsett when I was 9. I was going from a coed school to a boys' school and I thought, 'If I don't kiss a girl before I go to this school, I won't get to kiss a girl.' And my friend goes, 'Sarah Dowsett kisses. I kissed her once.' So I said to Sarah, 'I want you to know that I love you.' And she said, 'I love you too.' And I said, 'Do you want to go down to the bush and kiss?' She said yes. It was just [he purses his lips]. I remember thinking, 'What is this all about?' Then, when I had my first tongue kiss, I thought, 'What the hell is this?' "
FIRST LEARNED ABOUT SEX
"When I was 9, Scott Whitehead, who lived down the road, had an older brother who had
Penthouse
magazines. I was kind of shocked."
For more of Hugh's interview, pick up PEOPLE's Sexiest Man Alive issue, on stands Friday!