Elizabeth Taylor, the iconic Hollywood star whose tumultuous romances and precarious health challenges often played out as larger-than-life Elizabethan dramas,
died Wednesday of congestive heart failure
at Los Angeles's Cedars-Sinai Hospital. She may have been 79, but with more than 65 years of screen time preserved for all time, she will remain a glorious, glamorous and full-blooded image.
Revered for her generous charity work but sometimes controversial for her turbulent personal life, the three-time Oscar honoree, fragrance and jewelry mogul and tenacious AIDS activist possessed many talents, including a remarkable gift for self-appraisal.
Just before turning 60 in 1992, she summed herself up for
Life
magazine, saying: "I've been lucky all my life. Everything was handed to me: looks, fame, wealth, honors, love. But I've paid for that luck with disasters. Terrible illnesses, destructive addictions, broken marriages."
Eight marriages, in fact – though she was quoted as saying the two great loves of her life were producer Michael Todd (husband No. 3) and actor Richard Burton (Nos. 5 and 6, given that they remarried, albeit briefly the second time).
Timid Father, Pushy Mother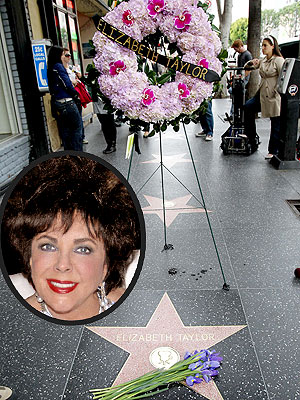 Splash News Online; inset: Jon Carrasco
Born in Hampstead, England, the second child of Francis Taylor, a timid American art gallery owner working abroad, and his highly assertive wife Sara Sothern, a former actress, Elizabeth Rosemond Taylor moved with her family to Los Angeles in 1939.
Pushed by Sara, young Elizabeth made her movie debut in 1942's
There's One Born Every Minute,
and appeared with lifelong friend Roddy McDowall in 1943's
Lassie Come Home.
But it was 1944's
National Velvet,
with Mickey Rooney, that brought her stardom at age 12. Not only was she a natural before the camera, but also, even then, Technicolor – and movie audiences – just couldn't get enough of her remarkable violet-colored eyes.
A string of movies followed (such as 1946's
Courage of Lassie
and 1949's
Little Women
), but critics still were not impressed – a fact she would have to contend with to varying degrees throughout her career. (Taylor once told Johnny Carson that she'd been given a preview of some of her obituaries, "and they were the best reviews I'd ever gotten.")
Her first recognition as a serious screen presence, however, came with 1951's
A Place in the Sun,
in which she costarred with Montgomery Clift, who also would become a close friend. The drama, regarded as one of the best ever made in Hollywood, was a showcase for Taylor's erotic power as well as her maternal strength, even at her tender teen age. Her white party gown in the movie also inspired an entire generation of high-school prom dresses.