Photos from Michael Jackson's last performance, taken just two days before his
death
, have surfaced and show the King of Pop rehearsing for his upcoming London tour.
Jackson, dressed in several stage outfits and showing off his dance moves with backup dancers, was photographed at a rehearsal inside L.A.'s Staples Center on June 23 where "he had great energy," according to producer Ken Ehrlich, an executive at AEG, the company that was promoting the singer's tour.
Ehrlich, who watched the performance and met with Jackson, tells PEOPLE, "He was definitely in rehearsal mode [and] wasn't giving it full out. But vocally, he had started to really project. I thought he was in great form. He just seemed really healthy. He really looked good and he was very upbeat."
During their brief 20-minute conversation, Jackson was "cracking jokes," adds Ehrlich. "He was having a good time. During rehearsal, I could tell that he was feeling it. He was feeling good. He was on his way to giving a great performance."
•
Reporting by JESSICA HERNDON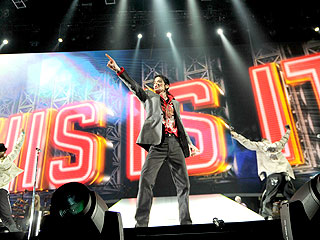 Kevin Mazur / AEG / Getty
•
ORDER NOW
:
Thriller: Remembering Michael Jackson
, a special collector's edition