The ferris wheel is gone. So are the zoo animals and the furniture and the big-screen TV. Weeds grow between the tracks of the Disneyland-like railroad. Across the dry brown hills from the restaurants and wineries made popular by the movie
Sideways
sits Neverland, a shadow of its former self. Only the many statues of frolicking children serve as reminders that Michael Jackson once lived here.
That, and the secret room in the closet secured by three deadbolts.
Still, the sprawling grounds, accessible through a remote-controlled gate leading to a winding road with speed bumps, have a fascinating if voyeuristic appeal – a surefire draw to Jackson fans and curiosity seekers the world over – much the same as Graceland does for Elvis devotees.
No Immediate Decision
Since Jackson's
death
, the holding company that bought the 2,500-acre estate last year out of foreclosure for $23.5 million hasn't officially announced what it's going to do with Neverland, save for watering the plants, repairing the buildings and keeping the gawkers at bay.
"We are still doing renovations and rehabilitation to the property and I think it has a ways to go," says a source at the holding company, Colony Capital LLC. "As far as I know, absolutely no decisions have been made about the property and there is no urgency to make any decisions. Right now we are trying to return the place to its original luster."
But the source says nothing is off the table, including opening Neverland to the public. And that's what has locals worried.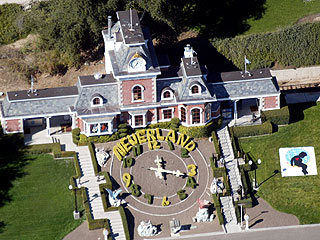 Once upon a quieter time, Neverland was a place of mystery and privacy, heavily guarded and remotely located far off Highway 101 north of Solvang, a Danish-themed tourist village. The only visitors were Jackson friends and associates and, of course, the children he invited to enjoy the rides and animals. Jackson's 2005 trial on child molestation charges – he was acquitted after 14 weeks of testimony and deliberation – drew the attention of global media to the region – attention that some locals did not appreciate.
Neighbors Worried
"We like it semi-quiet and unobtrusive," says Rick Paaske of Daniel Gehrs Wines, located in the charming town of Los Olivos, close to the ranch. He, like others, is "hoping like hell" Neverland doesn't become Graceland West, despite a likely boost to the local economy.
"Our valley is small; it's unique. Part of its charm is its solitude," he says. "We really don't need anything like that to come in here and bring in buses and hoards of people and that type of thing." Plus, he adds, some of the people attracted to Neverland "aren't really either old enough or have developed any kind of taste for fine wine."
Not long after Jackson died, neighbors got a taste of potential changes to come when the idea was floated of burying the King of Pop at his former home. And while nothing has come of it as yet – the result of local resistance and objections by some in Jackson's family, including his mother, Katherine – the episode made clear that the tussle over Neverland's future is just beginning.
The Colony Capital source says executives will take into account the concerns of the neighbors, as well as the Jackson family, which has a vaguely defined role in all decision-making. But the source makes clear the investment group didn't go into this deal to lose money.
"Even when Michael was alive, the primary goal was to figure out a way in which the property's value could be maximized by building his legacy," says the source. "Whether that meant turning Neverland into a theme park, or a place to visit, I'm not really sure, but I do know they were trying to figure out how best to make this property into a money-making venture."
•
Reporting by HITHA PRABHAKAR and JESSICA WEDEMEYER