Sam Smith
's hit song "Stay with Me" is still all over the airwaves (
and the Internet
), and after his restrained, stripped-down performance of the haunting tune on the VMAs, most of Twitter seemed to fall in love with the singer as well.
"I'm just going to sing my heart out and I can't believe I'm performing. It hasn't really hit me yet," he said before taking the stage.
Smith also started his evening out right, Tweeting a picture with
Beyoncé
when he arrived at the highly anticipated event.
You're gonna wanna open this... pic.twitter.com/ZOtQglCJw8

— SAM SMITH (@samsmithworld) August 25, 2014
And after his performance (see it below), Twitter blew up with praise for the singer.
But the cheering crowds don't faze Smith – especially when he's in America. "American audiences are louder, which I really like. I think they should be," he told reporters.
"It's early days, everyone could just piss off and leave me, but I feel like these people are going to stay with me. I feel like audiences are going to stick with me. I hope so."
If Adele and Sam Smith did a collab together I'd probably be in my feelings for some weeks.

— Jae. (@jaefromvine) August 25, 2014
I want to bottle sam smith's voice in a jar and just keep it beside me

— (@louberrytea) August 25, 2014
if you don't think sam smith is an angel then you are 112% irrelevant

— (@Figgalicious14) August 25, 2014
Listening to Sam Smith will have you missing your best friend's ex for them.

— Don Rob™ (@ImRobGodDammit) August 25, 2014
sam smith's voice should be a candle scent

— ☪Casey☪ (@CASEadillaxo) August 25, 2014
Take one look at this adorable, mid-singing smile and tell us you don't feel the same way.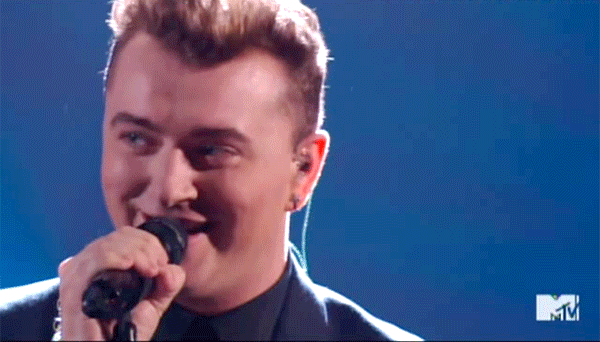 •
Additional reporting by CHRISTINA DUGAN
90 Seconds on the Red Carpet with Your Favorite VMAs Stars