Once again this year, Emmy nominees and presenters joined hundreds of television's biggest stars on the eve of the Emmys for the Evening Before, a fundraiser to benefit the non-profit
Motion Picture & Television Fund
.
The guest list? A who's who of Hollywood talent: Kevin Bacon and Kyra Sedgwick, Debra Messing, Mariska Hargitay, Christian Slater, Julia Louis-Dreyfus, Jaime Pressly, Stephen Colbert and Ricky Gervais were at the party, co-sponsored by PEOPLE.
For one guest,
Survivor
host Jeff Probst, suddenly finding himself at the Lawn at Century Park Sept. 19 – and in the company of the likes of Hayden Panettiere, Will Arnett and Amy Poehler – was nothing less than a culture shock.
"We literally just landed," the reality-TV host, fresh off a plane from the Pacific jungle, told PEOPLE when we caught up with him on Emmy night. "To go from the islands of Samoa, where people literally are walking around with machetes, to Hollywood, where people are walking around with Emmys! But it is good to be home."
At the Evening Before party, Probst said, "Just when we [his date was actress Sheetal Sheth] were getting ready to leave, Michael J. Fox came up and said, 'I gotta tell ya, I'm a big
Survivor
fan, and I talked for 20 minutes with an ICON!"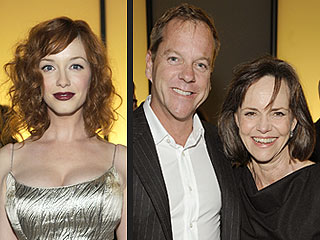 Frank Micelotta / PictureGroup