The 64th Primetime Emmy Awards will clock in at three hours of entertaining moments. Whether you caught the whole show or just tuned in for red carpet coverage and will catch up on YouTube, here's a countdown of the top five highlights that had us laughing out loud.
5. Jimmy Kimmel's Short & Sweet Opener
Awards show openers aren't usually known for their brevity, but Kimmel kept his monologue short and sweet. "Let's not forget, in a way, all of you are
winners tonight
, but in a much more literal way, most of you will be losers," he joked. "The important thing is we get out of here and you can put on your fat pants." He kept up the laughs later on as well, quipping, "If you ever wondered what happens during the commercial breaks backstage, try to imagine all your favorite TV stars all in one room, checking their phones and ignoring each other."
4. Seth McFarlane's Stewie Screw-Up
The
Family Guy
creator took to the microphone to announce the reality show host winner. Too bad it was the wrong one. "This is what happens when you don't come to rehearsal," he said in the voice of
Family Guy
's baby Stewie once he'd found the correct mic a few paces away. "That's gonna be on YouTube."
3. The Acceptance Speech Gaffe
When
Julia Louis-Dreyfus
won best lead actress
in a comedy series, she hugged fellow nominee Amy Poehler on her way to the stage. "Thank you so much, I am a bit overwhelmed," she said before looking down at the acceptance speech – that was soon revealed to actually belong to Poehler. "First of all, I'd like to thank NBC,
Parks and Rec
, my beautiful boys Archie and Abel." The actresses had fun with their planned goof, swapping notes with one another. "One last thing written here," Louis-Dreyfus continued. "Isn't it a shame Amy Poehler didn't win ... what?"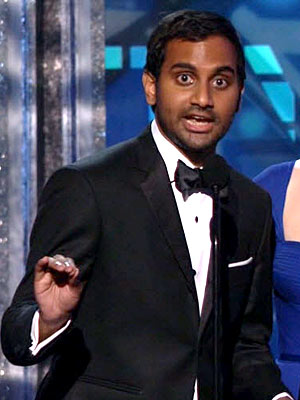 2. Aziz Ansari's British Moment
Before presenting the award for outstanding writing for a variety, music or comedy special,
Parks and Recreation
's Ansari had another mouthful to get through. "On behalf of myself and all the other British actors here, thank you, Hollywood, for welcoming us," he joked. "It is bloody amazing to go from doing theater in London to presenting here at the Emmys. It's brilliant. Bloody brilliant, fish 'n chips, cheers." His co-presenter, Jane Levy then chimed in, asking, "I thought you were from North Carolina?" To which Ansari replied, "Yeah, but I feel like people take your acting more seriously when you're British." (For the record, he's actually from South Carolina.)
1. Jon Stewart's F-Bomb
Play-wrestling with Stephen Colbert and Jimmy Fallon after the announcement of his tenth consecutive variety series win resulted in a very winded Stewart taking the stage. "I'm not in the kind of shape I should be in to do a bit with Jimmy Fallon!" he said. And to conclude a delightful acceptance speech, Stewart cracked, "Years from now, when the Earth is just a burning husk and aliens visit, they will find a box of these and they will know just how predictable these f---ing [awards shows] are!"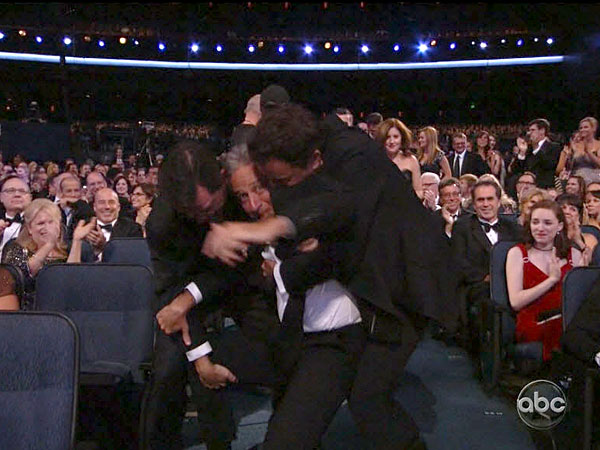 What was your favorite moment of the night? Tweet us @peoplemag #emmymoment