Taylor Lautner
's transformation from skinny teen to hunky werewolf didn't just happen with a full moon – the actor had an exacting regimen to achieve his famously shirt-bereft physique.
"I was exercising so hard that I began to lose weight," the 17-year-old tells
Men's Health
in its December issue, out Nov. 17.
For most people, that'd be a good thing. But for Lautner, who wants to bulk up even further as the
Twilight
film series progresses, he had to go on a 3,200-calorie-a-day diet to put on mass.
"My character continues to grow, so I'd like to pack on at least a few more lean pounds," he says.
Whatever he's doing, it's working.
Kristen Stewart
had only
good things to say
about her costar's seeming makeover.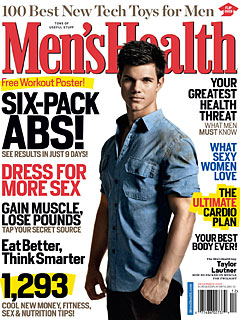 "He's literally become a different person," she said. "He's just grown up."
•
How to Get Taylor's 6-Pack Abs