While filming
Twilight
,
New Moon
and the now-wrapped
Eclipse
,
Robert Pattinson
,
Kristen Stewart
,
Taylor Lautner
and the rest of the cast were spotted enjoying the best restaurants, shops and nightlife spots Vancouver had to offer. Should you find yourself in town and want to taste the life of a
New Moon
star, here's a list of some of their very special haunts.
•
Opus Hotel
Rob and Kristen have partied with friends in the suites of this chic Yaletown hotel after a night on the town – and even ordered the occasional late-night pizza delivery. After the Juno Awards (the Canadian version of the Grammys) in March, Rob hung out in the Velvet Room of the hotel's
Elixir Bistro
, where he sipped a martini, enjoyed the French food and delighted the waitresses.
Visit:
opushotel.com/vancouver
•
Richard's on Richards
Rob and Kristen headed to this hotspot to catch their musician pal Sam Bradley and his band. "They were whispering in each other's ear and getting all cuddly," said waitress Alicia Bell of a visit in May. "They were acting like a girlfriend and boyfriend."
Visit:
richardsonrichards.com
•
India Bistro
In April, Taylor Lautner joined Pattinson and Stewart for Eastern fare at this Indian restaurant on Davie Street. Owner Kamal Mroke said a week doesn't go by that some
Twilight
-er didn't stop in. The group really liked the palak paneer (homemade cheese cooked with spinach, onions and Indian spices) and chicken jalfrezi (chicken cooked with onion, bell peppers and tomato in a light curry), he said.
Visit:
indiabistro.ca
•
Retro Rock Vintage Clothing
Did she pick up any of her trademark rocker tees? Rob and Kristen shopped for T-shirts, pants and jackets at this Vancouver vintage mecca, a shopkeeper told PEOPLE in September.
•
Cin Cin
"Rob and Kristen were seated beside each other and very close all night," an onlooker told PEOPLE in September of the couple's dinner at this Tuscan eatery that specializes in contemporary Italian fare on Vancouver's bustling Robson Street.
Visit:
cincin.net
•
Miku
Kellan Lutz got his fill of raw fish at this gourmet Japanese restaurant that specializes in Aburi-style sushi. Rob, Kristen, Taylor, Nikki Reed, Ashley Greene, Elizabeth Reaser, Jackson Rathbone, Xavier Samuels and Bryce Dallas Howard all dropped in before filming began for
Eclipse
in August.
Visit:
mikurestaurant.com
•
Players Chophouse
Rob and Kristen partied with Kellan and Ashley at this downtown steakhouse and sports bar in September. The
New Moon
-ers were treated to musical entertainment courtesy of costar Jackson Rathbone's band, 100 Monkeys.
Visit:
vancouverchophouse.ca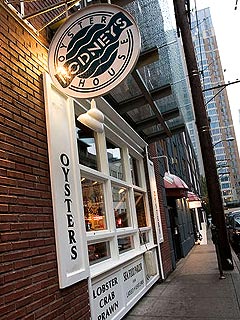 •
The Backstage Lounge
Sneaking in after the lights went down, Rob and Kristen caught their friend Bobby Long's September concert at this venue, a favorite of local artists, on Granville Island. Nikki Reed, her beau Paris Latsis, and Elizabeth Reaser were also at the show.
Visit:
backstagelounge.com
•
Tropika
Nikki Reed and Elizabeth Reaser ate at this Malaysian and Thai restaurant on popular Robson Street in August.
Visit:
tropika-canada.com
•
Rodney's Oyster House
Kristen marked turning 19 on April 9 with Rob and their castmates during a party at this seafood spot on Hamilton Street.
Visit:
rodneysoysterhouse.com
•
Glowbal Grill and Satay Bar
For Rob's 23rd birthday, he picked this Yaletown steak and satay joint to celebrate with Kristen, Ashley Greene and Jamie Campbell Bower. The group sipped champagne cocktails and feasted on Kobe beef meatballs, lamb, steak, salads and roasted vegetables.
Visit:
glowballgrill.com