A season full of parties is great for catching up with friends, but there's a downside. "With so many, it's like, 'If I have one more rich plate of food, I'm going to explode,'" says Curtis Stone, host of TLC's
Take Home Chef
. When it's your turn to host, Stone suggests going against the brie-and-cupcakes tide by serving refreshing, healthy foods: lean chicken and grilled beef, salads and a fruit-based dessert. The menu that he created for PEOPLE follows his year-round approach: "You can eat cheese and chocolate but also eat vegetables, meat and fish." Another rule? Don't stress. Says the Los Angeles-based Aussie: "Cooking should be chilled out."
Menu:
• Pear Martinis
• Salad of Baby Beets with Goat Cheese
•
Bibb Lettuce "Beggar's Purses" with Chicken, Blue Cheese and Grapes
•
Rosemary-Skewered Steak with Pesto Sauce
•
Apple-Butterscotch Compote with Brandy-Soaked Dates and Yogurt
Pear Martinis
Makes 4 martinis
6 Bartlett pears
2 tbsp. honey
6 tbsp. lemon juice
1 cup good quality vodka
Zest of ½ lemon
1. Peel 4 pears and slice into ½-inch. pieces, avoiding the core.
2. Sauté slices over medium heat (in a nonstick pan) for 1 to 2 minutes on each side, or until just turning light brown. Remove and cool pears in the refrigerator.
3. Mix honey, 2 tbsp. lemon juice and ¼ cup water.
4. Peel last 2 pears, then, using a melon baller, scoop balls from the fruit. Marinate in the honey mixture for 10 minutes, then place 3 balls each on 4 small skewers.
5. In a cocktail shaker, add cooled, cooked pear slices, 4 tbsp. lemon juice, vodka, ½ cup of ice, lemon zest and 2 tbsp. of the honey mix. Shake well, allowing pear to break up, then strain into 4 chilled martini glasses. Garnish with skewers.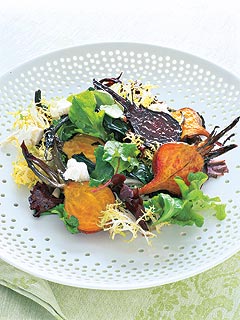 Salad of Baby Beets with Goat Cheese
Serves 4
3 tbsp. balsamic vinegar
¼ cup extra virgin olive oil
Salt and freshly ground black pepper
3 bunches baby red and golden beets with leaves (about 12 beets)
1 head frisée (or other) lettuce, leaves separated
1 sprig fresh thyme
½ cup soft goat cheese
To make the dressing:
Whisk 3 tablespoons of the balsamic vinegar in a large bowl. Slowly add ¼ cup of the olive oil, whisking constantly until the vinegar and oil are emulsified together. Season the dressing to taste with salt and pepper.
To prepare the salad:
1. Bring a medium pot of water to a boil over high heat.
2. Trim the leaves from the beets, leaving about 3 inches of the stems on the beets. Cook all the leaves in the boiling water for 15 seconds, or until bright green. Transfer the leaves to a bowl of ice water to cool them quickly. Drain the beet leaves and pat them dry. Cover and refrigerate the beet leaves and lettuce while preparing the beets.
3. Preheat the oven to 350º. Wash the beets carefully; using a small brush to ensure there is no sand or grit remaining. Cut the beets lengthwise in half. Arrange the beets on a baking sheet. Drizzle of the remaining 1 tbsp. of the oil over the beets and season with salt and pepper. Remove the thyme leaves from the stem and sprinkle the leaves over the beets. Cover the baking sheet with foil and bake the beets in the oven for 10 minutes, or until the beets are almost tender. Remove the foil and bake the beets 15 minutes longer, or until they are tender and begin to caramelize. Remove from the oven and allow to cool for 10 minutes.
4. Toss the beets, lettuce and beet leaves in a large bowl with enough dressing to coat. Season the salad to taste with salt and pepper. Divide the salad among 4 plates. Using 2 small knives or 2 small spoons, place 5 or 6 small pieces of the goat cheese over each salad. Drizzle with a little more dressing and serve.