For a successful New Year's Eve gathering, "it's key to time the party right," says celebrity event planner Preston Bailey, who designed this dessert party for eight after a similar fete he planned for
Sarah Jessica Parker
.
He suggests kicking off the evening at 10 p.m. – which means you can skip dinner. "People have already eaten," says Bailey, who instead offers his guests a mix of fruits and sweets that incorporate his favorite ingredient: chocolate.
"I always have something decadent for people when they walk in," he says. So what's his secret for getting guests to finally walk out when it gets to be the wee hours? "Start yawning!"
Menu:
• Chocolate-Chocolate Cupcakes with White Frosting (see below)
•
Mint Chippers
•
Black and White Chocolate Chip Cookies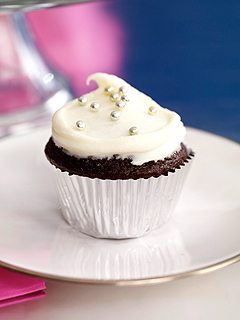 Chocolate-Chocolate Cupcakes with White Frosting
Makes 12
¾ cup unsweetened cocoa
¾ cup all-purpose flour
½ tsp. baking powder
½ tsp. salt
½ cup unsalted butter, softened
1 cup sugar
3 large eggs, at room temperature
1 tsp. vanilla extract
½ cup sour cream
1 ½ cups milk chocolate morsels
White Frosting:
½ unsalted butter, softened
3 cups powdered sugar
1 tsp. vanilla extract
2 to 3 tbsp. milk
1. Sift together cocoa and next 3 ingredients in a medium bowl; set aside. Beat butter and sugar at medium speed with an electric mixer until light and fluffy. Add eggs, 1 at a time, beating until well blended. Stir in vanilla.
2. Add cocoa mixture to butter mixture alternately with sour cream, beginning and ending with cocoa mixture. Beat at low speed until blended after each addition. Stir in morsels.
3. Place 12 paper baking cups in a muffin pan; spoon batter evenly into cups, filling completely full. Bake at 350º F for 25 to 30 minutes. Cool in pan 5 minutes; transfer to a wire rack, and cool 30 minutes.
4. For frosting, beat butter with an electric mixer at medium-high speed until creamy. Gradullay beat in sugar until smooth. Beat in vanilla and 2 tbsp. milk, adding additional milk, if necessary, for desired consistency. Spread cupcakes evenly with white frosting.
NEXT: Mint Chippers >