Holiday Dishes from Around the World:
• Gilles Marini's Kings Cake (see below)
•
Cat Deeley's Mince Pies
•
Mario Lopez's Tamales
•
Kelly Choi's Rice Cake Stew
Gilles Marini: Three Kings Day
Make no mistake: Gilles Marini takes Christmas very seriously. He buys a tree right after Thanksgiving and keeps it up well into January. And the French actor always makes sure "there are a lot of gifts under that tree" on Christmas morning for his children Georges, 10, and Julianna, 3, with his wife, Carole, 32.
But even though he's lived in Los Angeles for a decade, Marini – who waltzed his way to second place on
Dancing with the Stars
and currently stars on
Brothers and Sisters
– makes it a point to inject a taste of France into his family's holidays by celebrating Three Kings Day on Jan. 6.
To commemorate the day the three wise men visited baby Jesus, Carole, who is also French, bakes an almond-flavored confection called a
gallette des rois
(kings cake) with a special surprise.
"Inside the cake is a little toy called a
fève
[lucky charm]. It's usually a porcelain Christmas figurine or a tiny animal," explains Marini. "Whoever gets the toy in their slice gets to wear a crown." But the protective father quickly adds that his kids chew "very carefully, so that they don't break a tooth!"
Though Marini, 33, has embraced the Christmas customs here, "it's nice to mix the traditions," he says. So Christmas Eve dinner involves turkey as well as foie gras, salmon and oysters.
Santa also goes by the name of Papa Noel. "I told Georges that Santa is lightning fast and you cannot see him," Marini says. "I want to teach my kids that Christmas is pure magic."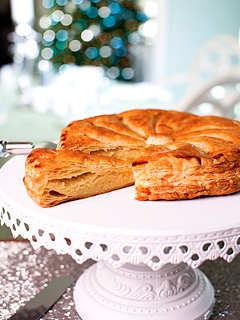 Kings Cake
½ cup butter, softened
½ cup sugar
1 egg
2 tbsp. flour
½ cup ground almonds
1 pkg. puff pastry dough (contains two dough sheets)
1 egg beaten
Confectioner's sugar
To prepare the frangipane or almond filling
Cream butter and sugar lightly, add egg in portions and finally add flour and ground almonds.
To prepare the crust
1. Using a generous dusting of flour on the counter and on a rolling pin, roll out one sheet of puff pastry dough into an 11-inch square.
2. Using a 10-inch pie pan turned upside down as your guide, cut a circle out of the dough with the tip of a knife. Refrigerate the sheet. Repeat with second sheet.
3. Place the first round sheet on a parchment-lined cookie sheet and pour frangipane filling in the center, leaving a 1 ½-inch margin for the edge and lightly brush edge with beaten egg. Place a bean, or a toy, in the filling.
4. Place the second sheet of dough on top of the first and press the edges firmly to seal in the filling.
5. Lightly brush the top of the
gallette
with more of the beaten egg. Use a knife, make decorative crisscross patterns on the top sheet and a few small slits so that steam can vent while baking.
7. Bake for 15 minutes at 425º F in a preheated oven. Avoid opening the oven while baking as the pastry may not fully puff.
8. Remove
gallette
from the oven and dust with confectioner's sugar. Return to the oven for 12 to 15 more minutes, or until top is golden brown. Let cool before serving.
NEXT: Cat Deeley: An English Christmas >