When it comes to throwing a party, Gail Simmons isn't afraid to skip dinner and go straight to the good stuff. "There is no better way to bring people together than with desserts," says the
Top Chef: Just Desserts
host.
Plus a sweets-only soiree is "really easy. You can make everything in advance and store it in the fridge or airtight containers. Then all you have to do is set the desserts out on pretty platters, and you're done!"
The New Yorker, 34, whips up at least three different confections, and "I like to add something fresh to the menu, so I serve fruit," she says. Another way she sends guests home feeling guilt-free? "Once the sugar stars flowing, I get a little dance party going to work off some calories!"
Menu:
• Toasted Coconut Macaroons (see below)
•
Individual Apple Tarte Tatins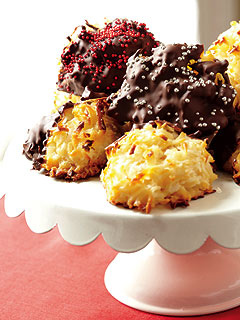 Toasted Coconut Macaroons
Makes 24
• 3 egg whites
• ½ tsp. cream of tartar
• 1 tbsp. sugar
• 1 (14-oz.) can sweetened condensed milk
• 1 tsp. vanilla extract
• 1 tsp. lemon zest
• 20 oz. sweetened shredded coconut
• 7 oz. dark chocolate (60-70% cocoa)
1. Preheat oven to 325ºF.
2. Beat egg whites in electric mixer on low. Once whites are broken up, add cream of tartar and sugar. Increase speed to medium and beat until whites are frothy.
3. Shut off mixer and fold in condensed milk, vanilla and lemon zest. Add coconut and mix until well incorporated. Let mixture sit for 2-3 minutes.
4. Line 2 cookie sheets with parchment paper. Drop 12 heaping tablespoons of the batter on each tray, spacing them apart evenly. Bake for 20-25 minutes. Let cool.
5. Melt chocolate in a double boiler over low heat or in the microwave. Dip half of each macaroon into the chocolate. Place on tray to allow chocolate to set. Serve when cooled.
NEXT: Individual Apple Tarte Tatins >