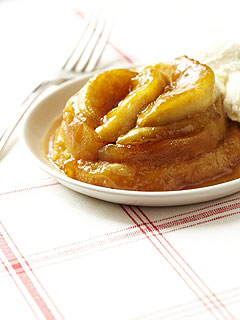 Individual Apple Tarte Tatins
Makes 4
• 1 cup granulated sugar
• ½ cup water
• 2 tbsp. unsalted butter
• 4 small-medium granny smith apples
• 1 sheet frozen puff pastry, thawed for 15 minutes before using (store bought)
• Vanilla bean ice cream
1. Preheat oven to 400º F.
2. Set a small saucepan over high heat and add sugar and water. Bring to a rolling boil and cook without stirring until it turns a deep amber color, about 10 minutes. Remove from heat immediately and carefully add butter, gently swirling it into the pan.
3. Using four 12-oz ramekins, cut out four circles of puff pastry. Poke holes all over each pastry disc with a fork. Carefully divide the caramel evenly into the bottom of the four ramekins. Peel apples and cut each into six wedges. Carefully layer apple wedges into ramekins ensuring there are no gaps and the tops are level. Place ramekins on a baking sheet and top each with a puff pastry disc. Bake for 20 minutes until tops are golden and puffy.
4. Remove from oven and allow to cool slightly, about 10 minutes. Carefully invert each tart onto a plate. Let tarts cool an additional five minutes. Serve with a big scoop of vanilla bean ice cream.