A lot has changed for Scotty McCreery in the six months since he
won American Idol
. But when he heads home to Garner, N.C., for Christmas, it's what
hasn't
changed that he's most eager to revisit: candlelight Christmas Eve services at First Baptist Garner; mom Judy's sausage balls; red foil-wrapped presents under the tree; and quality time with his family.
"It'll be nice just being home," says the 18-year-old singer, whose debut album
Clear As Day
topped the Billboard 200 chart. "I can't wait."
McCreery's also looking forward to digging into the family's annual Christmas feast, including Grandma Paquita's flan, Grandma Janet's broccoli cornbread and his mom's banana pudding. ("She likes putting a lot of bananas in there," says McCreery, "so sometimes I have to sneak in a couple extra [Nilla] wafers.")
But the
Idol
champ says he isn't the only one who gets to indulge in his favorite foods during the holidays at the McCreery home.
"We don't eat too many cookies in my house," he says, "but Santa always leaves happy!"
Menu:
• Broccoli Cornbread (see below)
•
Spanish Flan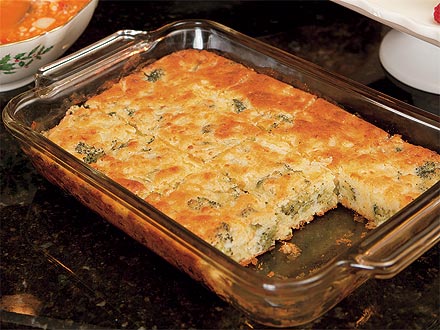 Grandma Janet's Broccoli Cornbread
Serves 8 to 10
• 1 (10 oz.) package frozen chopped broccoli, thawed and drained
• 3 large eggs, lightly beaten
• 1 cup cottage cheese, drained
• 1 tsp. salt
• 1 (8 ½ oz.) package corn muffin mix
• ½ cup butter or margarine, melted
• 1 small onion, chopped
1. Preheat oven to 400ºF.
2. Lightly grease a 9 x 13-in. baking pan. Pat broccoli dry on paper towels.
3. Stir together eggs, cottage cheese and salt. Add muffin mix, butter, onion and broccoli, stirring until just blended.
4. Pour batter into prepared pan. Bake at 400º for 25 to 35 minutes until golden brown and a wooden pick inserted into center comes out clean.
5. Let stand 5 minutes before removing from pan. Serve when cooled.
NEXT: Spanish Flan >