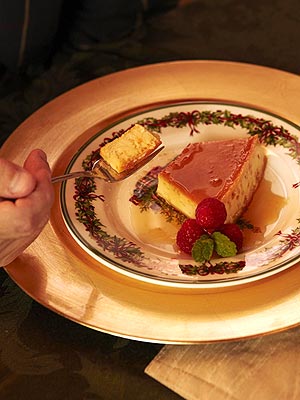 Grandma Paquita's Spanish Flan
Serves 8 to 10
• 2 cups sugar, divided
• 6 large eggs
• 2 (12 oz.) cans evaporated milk
• ¼ tsp. salt
• ½ tsp. vanilla extract
1. Preheat oven to 325ºF.
2. Cook 1 cup sugar in a heavy skillet over medium-low heat for 8 to 10 minutes, stirring as needed until sugar melts and turns light golden brown.
3. Quickly pour syrup into a 9-in. round cake pan. Tilt pan to evenly coat the bottom. Set aside.
4. Whisk together eggs and remaining sugar. Gradually whisk in milk, salt and vanilla. Pour mixture through a wire-mesh strainer into prepared cake pan. Cover pan tightly with aluminum foil. Place in a roasting pan filled 1-in. deep with hot water.
5. Bake for 1 hour and 15 minutes or until a knife inserted in the center comes out clean.
6. Remove pan from roasting pan. Uncover and cool on wire rack. Cover and chill 4 hours.
7. Run a knife around edges to loosen, then invert onto a large serving plate.