"You can be fit
and
enjoy wonderful food," says Art Smith, who proved it when he dropped 120 lbs., while still keeping fans like
Oprah
happy with his famous fried chicken, and occasionally indulging himself. The
Top Chef Masters
star was one of three-dozen chefs whom PEOPLE senior editor Allison Adato spoke with for her book,
Smart Chefs Stay Slim: Lessons in Eating and Living from America's Best Chefs
, just out in
paperback
.
Each one of them has managed to either maintain a healthy weight – or lose a lot – despite working around rich and delicious food everyday. If you're kicking off the year with a resolution to eat better, chefs have a lot great, easy ways to do it. Here are 5 things you can start today:
•
Eat oatmeal:
Next Iron Chef
finalist Nate Appleman became devoted to it as he dropped nearly 100 lbs. Art Smith eats it virtually everyday with berries. And Rick Moonen, another
TC Masters
alum, likes it with flax seeds, cinnamon, cayenne pepper and just a drop of maple syrup. "Tastes like a Red Hot, and makes you feel really good," he says.
•
Hit the Acid:
A splash of citrus or vinegar, says Moonen, is an easy trick to improve the flavor of a dish without adding calories or fat. "If you want to brighten something up," he advises, "try taking the zest off any citrus that catches your eye: lemon, lime, grapefruit, tangerine – all good!" Why is a bit of lemon or vinegar so essential? Chef Michael Psilakis who lost about 80 lbs. by favoring salads with protein, explains, "When you add acidity, you experience the food as a sort of roller coaster, with peaks and valleys."
•
Move your fruit:
Relocate your fruit from the fridge to the dining table. "It's a trick of suggestion, since whatever is in front of you is what you'll grab," says Psilakis. "If you have those grapes or berries or apples on the table that you pass constantly, you're sending a message to yourself: This is what you should be eating."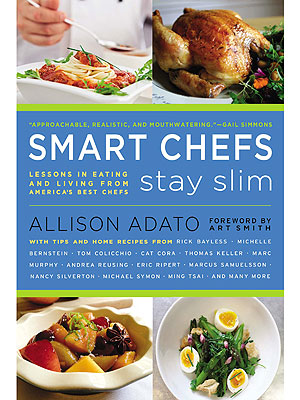 •
Stop Eating It All:
"How many times have you finished a meal because you were 'paying good money?' Now I don't do that," says Appleman. If you have a lot left over after you've eaten enough, have it wrapped up for tomorrow's breakfast or lunch. Chefs are not snobs about doggie bags, says
Top Chef Masters'
Naomi Pomeroy of Portland, Ore., eatery Beast.
•
Turn Up the Heat with Chilies:
"Chilies can be your friend if you are trying to lose weight," says Rick Bayless, chef-owner of Frontera Grill in Chicago. He points to research that chilies may speed up your metabolism. Also, he says, "chilies help you feel more satisfied. They fire your mouth on all cylinders." He suggests popping open a can of chipotles in adobe (smoked, dried jalapeños in a vinegar-tomato broth), mix the contents in a blender, and use the puree on "practically anything: soups, beans, or as a marinade for fish or chicken. Super-delicious."