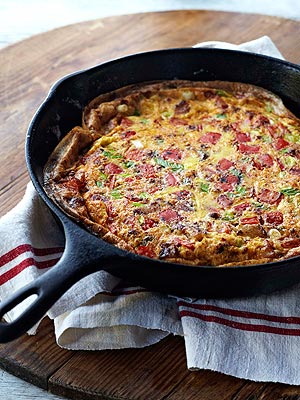 Potato and Bacon Frittata
Serves 4
• 5 oz. sliced bacon, cut into ½-in. pieces
• 1 small yellow onion, finely chopped
• 1 red bell pepper, cored, seeded and cut into ½-in. pieces
• 2 scallions (white and green parts), sliced into ½-in.-wide pieces
• 2 garlic cloves, finely chopped
• 1 tsp. chopped fresh thyme
• 2 medium baking potatoes, such as russets (7 ounces each), peeled
• 12 large eggs
• 1 ½ tsp. kosher salt
• ¾ tsp. sweet smoked paprika
1.
Preheat the oven to 400 degrees F.
2.
Heat a 12-in. cast-iron skillet or ovenproof nonstick pan over medium heat. Add the bacon and cook, stirring occasionally, for about 5 minutes, or until crisp and golden. Using a slotted spoon, transfer the bacon to a medium bowl. Add the onions, bell peppers, scallions, garlic, and thyme to the drippings in the skillet and cook, stirring often, for about 3 minutes, or until the onions are tender. Using a slotted spoon, transfer the vegetable mixture to the bowl with the bacon, leaving the pan drippings in the skillet.
3.
Meanwhile, grate the potatoes on the large holes of a box grater.
4.
Increase the heat under the pan to medium-high, add the potatoes, and stir to coat with the drippings. Press down the potatoes with a metal spatula and cook, without stirring, for about 5 minutes, or until the bottom is lightly browned. Scatter the bacon-vegetable mixture over the potatoes.
5.
In a large bowl, whisk the eggs, salt and paprika together just until combined. Pour over the vegetables and bacon. Transfer the pan to the oven and bake for about 25 minutes, or until the frittata is puffed and golden.
6.
Loosen the edges of the frittata with a silicone spatula and gently slide it onto a large serving plate. Cut into 4 wedges and serve.
Next: Asian Crab Cakes with Mango Chutney