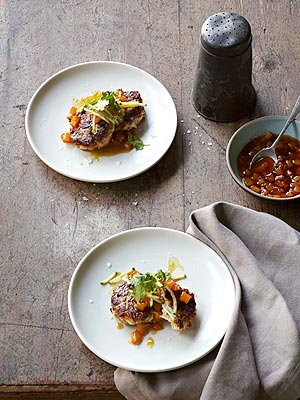 Asian Crab Cakes with Mango Chutney
Serves 6
Mango Chutney
• ½ cup sugar
• 1 mango, pitted, peeled and cut into ¼-in. dice
• ½ cup unseasoned rice wine vinegar
• 2 Tbsp. fresh lime juice
• kosher salt
Crab Cakes
• ½ cup mayonnaise
• 1 large egg
• 2 Tbsp. Thai or Vietnamese fish sauce
• 1 Tbsp. peeled and minced fresh ginger
• 1 Tbsp. finely chopped fresh cilantro
• 1 tsp. toasted sesame oil
• 1 to 2 tsp. seeded and finely chopped red jalapeño pepper
• ½ tsp. kosher salt
• Finely grated zest of 1 lime
• ¼ cup finely chopped green onions, white and green parts
• 1 lb. jumbo lump crabmeat, picked over for cartilage and shells, well drained
• 1½ cups panko (Japanese bread crumbs)
• 6 Tbsp. canola oil
• 4 Tbsp. (½ stick) unsalted butter
• ½ English cucumber, sliced into thin rounds and then into matchstick-size strips
• fresh cilantro sprigs, for garnish
1.
To make the chutney: Heat a medium heavy saucepan over medium heat for 2 minutes. Add the sugar and cook without stirring, tilting the pan as needed so that the sugar cooks evenly, for about 5 minutes, or until it melts into an amber caramel. Do not stir or the caramel will crystallize. Remove from the heat and stir in the mango (the caramel will seize), then the rice vinegar and lime juice. Return to medium heat and stir constantly for about 5 minutes, or until the mango is translucent and the caramel is dissolved and syrupy. Transfer to a bowl and let cool. Season with salt.
2.
To prepare the crab cakes: In a large bowl, whisk the mayonnaise, egg, fish sauce, ginger, cilantro, sesame oil, jalapeños, salt, and lime zest together, then whisk in the green onions. Add the crabmeat and stir to coat, coarsely break­ing apart the crabmeat, leaving small whole chunks in the mixture. Fold in the panko. Cover and refrigerate the crab mixture for 30 minutes so that the mixture is easier to form.
3.
Using about ½ cup of the crab mixture for each cake, shape into one-dozen ¾-in.-thick crab cakes and place on a baking sheet.
4.
To cook the crab cakes: Preheat the oven to 200 degrees F. Line a baking sheet with paper towels. Heat a large nonstick sauté pan over medium-high heat. Add 3 Tbsp. of the oil and 2 tsp. of the butter and heat until hot but not smoking. Working in two batches, fry six crab cakes for about two minutes on each side, or until crisp and golden, adjusting the heat as needed to brown evenly without scorching. Transfer to the baking sheet and keep warm in the oven. Wipe out the skillet with paper towels and repeat with the remaining 3 Tbsp. canola oil, 2 tsp. butter, and six crab cakes.
5.
To serve, place two crab cakes on each of six plates. Spoon some of the mango chutney over and alongside the crab cakes. Top each with the cucumber and garnish with the cilantro sprigs and sea salt.
Next: Seared Ham Steak and Eggs with Smashed Potatoes