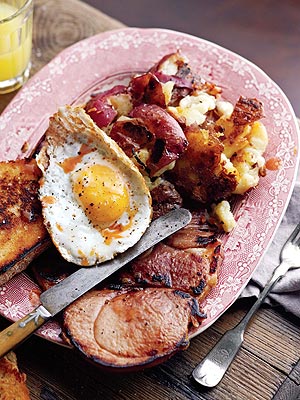 Seared Ham Steak and Eggs with Smashed Potatoes and Sourdough Toast
Serves 4
• 12 small red-skinned potatoes, scrubbed
• 6 Tbsp. salted butter, 3 Tbsp. softened
• One 1¼- to 1½-lb. bone-in smoked ham steak (about ¾-in. thick), patted dry
• kosher salt
• 2 Tbsp., plus 2 tsp., olive oil
• 4 ¼-in.-thick slices sourdough bread
• nonstick cooking spray
• 8 large eggs
• Freshly ground black pepper
1.
Preheat the oven to 200 degrees F.
2.
Put the potatoes in a medium saucepan, add enough cold salted water to cover, and bring to a boil over high heat. Reduce the heat to medium and cook for about 12 minutes, or until the potatoes are tender when pierced with the tip of a small sharp knife. Drain and transfer to a cutting board. Gently press on the potatoes with a metal spatula or the bottom of a small pan to crack them open but keep them mostly intact. Let cool.
3.
Heat a large heavy nonstick skillet over medium-high heat. Melt 1 Tbsp. of the butter in the pan, then add the ham and cook for about three minutes per side, or until it is heated through and beginning to caramelize. Transfer the ham to a heatproof platter, tent with foil and keep warm in the oven.
4.
Return the skillet to medium-high heat. Add 2 Tbsp. of the butter and the olive oil and swirl to coat the cooking surface. Add the potatoes, sprinkle with salt and cook, turning halfway through cooking, for about 3 minutes per side, or until golden brown. Transfer the potatoes to the platter with the ham and return to the oven to keep warm.
5.
Spread the remaining 3 Tbsp. butter over one side of the bread slices. Place the bread buttered side up on a broiler pan in a hot toaster oven and broil for about three minutes, or until the tops are toasted golden. (If you don't have a toaster oven, use a broiler.)
6.
Meanwhile, heat a large heavy nonstick skillet over medium heat. Spray the pan with nonstick cooking spray. Crack 4 eggs into the pan and season them with salt and pepper. Cover and cook for about 2 minutes, or until the whites are set and the yolks have thickened slightly. Transfer the eggs to a platter and repeat with the remaining eggs.
7.
Serve the eggs hot, with the ham, potatoes, and toast.
Next: Seared Scallops and Peas with Bacon and Mint