I recently injured my knee and can't do my normal running or Jillian Michaels DVD. I have a desk job so I sit all day. Can you recommend a good exercise routine while my knee heals? –Babs
You really need to talk with your doctor and physical therapist about what activities are best for you to do until your injury heels. Contestants on
The Biggest Loser
tend to spend more time in the pool and on the rowing machines but don't do anything without first checking with doctors. Get well soon!
I'm a new runner, and I know you've been in my shoes! One day I can run two miles without stopping, and the next I can barely get through half a mile. How can I push through and build consistency? –Gina
A lot of that has to do with nutrition, hydration and rest. When I started to run long-term, I needed to evaluate what I ate before each work out. Make sure you are constantly hydrating yourself a day before the run as well as after and be sure to sleep before trying for a longer run.
As a mom of three, I would love to get some tips to lose the baby bulge. It seems that as I lose weight in other areas, my stomach becomes more obvious. I'm ready to lose this baby souvenir! –Carmen
I remember trying to do a sit-up after I had Ben and falling back and laughing. You're literally recovering from an injury and you need to build those muscles back. Make sure you're eating healthy (mainly proteins, fruits and veggies) and working out those core muscles. That's what
The Biggest Loser
trainers taught me and it worked!
I recently lost 40 pounds. I want to stay active to help maintain my weight loss but I never seem to have any energy. Any advice? –Jleigh
Have you been working out? Often people drop pounds by cutting back calories. It's important to make sure you're getting enough nutrition if you're working out and to get through your day. Also getting enough sleep is important, too! Eating enough calories doesn't mean putting the weight back on – just make sure you are eating the right things!
I get up at 4:30 a.m. to work out then straight to work. I get home around 6:30 p.m. I have to go to bed by 8 p.m. to be able to get back up and start again. My problem is evening dinners. I can't sleep hungry but I know I shouldn't really eat that close to bedtime. Any suggestions? –Lori
Eating at night is always tricky. I've found that it's better to stick to lighter things before bed, but it's also when we're the most tempted to cheat. You sound like you have quite an intense schedule. So try eating lighter fare, like veggies and a little protein. If you need a carb, try quinoa or another lentil that isn't as heavy as pasta or rice.
Do you prefer to eat healthy ever day or do you allow yourself a cheat day once a week? –Angela
I don't beat myself up if I have a treat but I try to have a bite of a cookie rather than a pack and to make a conscious effort to work out that day or the next one.
How do I keep from snacking so much? –Paula
I'm a fan of snacking, so I make sure I have plenty of healthy snacks wherever I go. That way I'm not starving at meals and eat a little bit throughout the day.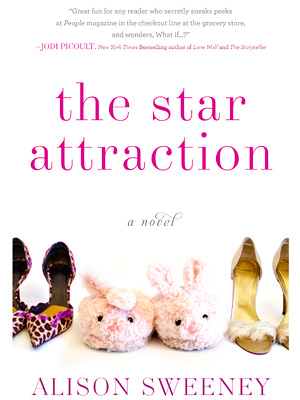 Why did you decide to break away from fitness/lifestyle and write a novel? –Kate
The Star Attraction
is an inside look at Hollywood; the main character is Sophie, a publicist. It's her story, dealing with the ins and outs of Hollywood, trying to balance a relationship and work ... trying to figure out what she wants out of life! The inspiration came from how many years I've spent at
Days of our Lives
as an actress, telling other people's stories. I love my job, but sometimes it's frustrating to act out the stories of others when it's not how I want it to go! So I started writing this character to just fulfill my own creative instincts. Now it's crazy and thrilling to know other people will be reading it!
What was the novel-writing process like; how did you make time for it in your busy life? –Sarah
Well, my best friend definitely gave me insight into the life and work of a publicist. In fact I have several close friends who work in publicity, so many of the stories came from them. I took those and used my imagination for the romantic part and it all came together.