We may not know what the
Duchess of Cambridge
gabbed about with
Reese Witherspoon
when
the two met
on Sunday (No longer having weddings to plan? British versus Hollywood royalty?
PDA in the public eye
?) but there were plenty of other noteworthy conversations to listen in on while the royal couple visited Los Angeles.
During their whirlwind three-day tour, Kate and
Prince William
saw
red carpets
, polo fields, Skid Row, and a whole lot in between.
Here's what PEOPLE overheard when the
royal couple
took Hollywood ...
Kate, Quoted
• "Everything you want to buy on TV is a helicopter or a fancy car" – to William, after he learned about software that allows users to buy items straight off TV
• "Oh my gosh, you do it better than me. Have you been practicing?" – to a 13-year-old girl showing off her British accent
• "I don't know if I have a favorite color. What's yours?" – Kate, to William
"Definitely blue" – William
"I think mine is white" – Kate, on a question that nearly stumped the newlywed
William, Quoted
• "Your painting is better than mine!" – to Kate, regarding her
questionable rendering
of a snail
• "You're not going to take our clothes off, are you?" – to an onlooker showing him an app that featured a wedding day photo of the royal couple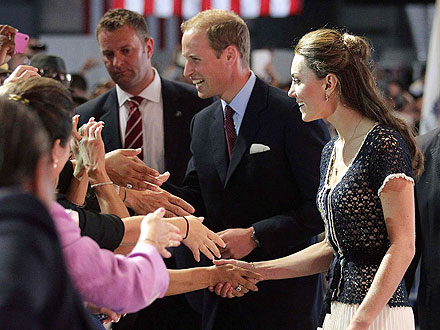 Jae c. Hong / Reuters / Landov
From Fans
• "She's soft-spoken. She made a really interesting point that she understood that L.A. was not representative of the entire country and that she did want to see more of the United States" – Julie Chen, on Kate
• "No one has really seen princesses except on TV – on TV they are usually stuck up like the evil step-sisters. But she was so sweet and pretty and nice and so was Prince William" – Sneh Chachra, 10, on meeting the royal couple at Inner-City Arts
• "I met her in the bathroom – we had a personal conversation there. She told me she wishes she could spend more time out here. She said, 'I would love to come back here with my bikini next time and relax'" – Gina Nalamlieng, on meeting Kate
• "She told me the Queen has an iPad and that Prince William has played Angry Birds" – Brian Wong, KIIP CEO, on chatting with Kate
From Famous Fans
"They make me smile" –
Nicole Kidman
, on William and Kate
"When you meet them, you don't have to bow and curtsy. You can call them whatever you feel: Your Royal Highness, William and Kate, just as the mood takes you" – BAFTA chairman Duncan Kenworthy, to the A-list guests at
the BAFTA gala
Saturday
"I didn't meet them. I was shoved out of the way by
Jennifer Lopez
. Uh oh, I shouldn't have said that" – Mary Louise Parker, at the BAFTA party
• Reporting by LORENZO BENET, OLIVER JONES, MIA MCNIECE, AILI NAHAS, SIMON PERRY, DAHVI SHIRA and CYNTHIA WANG
For much more on the royal couple's triumphant tour, pick up this week's issue of PEOPLE, on newsstands Friday