The Duchess of Cambridge
flew the flag for Britain on Thursday as she kicked off a series of Olympic-themed royal events by wearing
an electric-blue crepe dress
by Stella McCartney – the designer of the official British uniforms for the Games.
With another nod to the Olympics, perhaps, she chose to wear one of her own pieces of jewelry that has a distinctive large gold ring forming the pendant necklace, with four other rings along the chain.
As patron of the National Portrait Gallery, Kate attended the opening of an exhibit of portraits of athletes called "Road to 2012: Aiming High."
As well as seeing the portraits, she was taken on a private tour of the gallery, where she passed a short video of a shirtless, sleeping
David Beckham
(shot by artist Sam Taylor-Wood) and then, more sedate, some portraits of Queen Elizabeth unveiled recently for the Diamond Jubilee.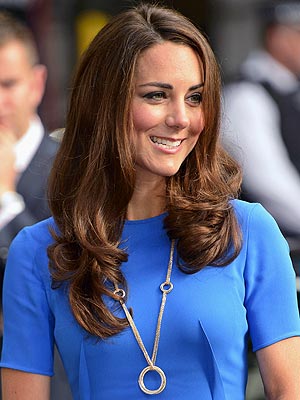 Kate was also taken aback to see a shot of herself, taken by photographer Jillian Edelstein, when she visited the Olympic park in March and played hockey. "Oh no," she was heard to gasp when she saw it.
Gallery director Sandy Nairne told reporters that Kate, 30, was in "good form."
"We know she loves taking photographs," Nairne said. "She was very intrigued about how things got taken and why they got taken. She was asking lovely questions."