Normally known for her trademark suede boots or nude heels, the
Duchess of Cambridge
made a joke out of donning sneakers as she and
William
opened a new training facility for the England national soccer team on Tuesday.
Local Member of Parliament Andrew Griffiths met the couple at St. George's Park, Burton-upon-Trent, and said, "I asked if she was going to come for a kickabout later. She said, 'Have you got a pair of trainers I can borrow?' I said, 'It can be arranged.' She just laughed."
Sporting an autumnal gray coat by Reiss, Kate, 30, arrived at the $160-million complex by helicopter from London – and learning chopper lingo with her RAF pilot husband.
"She has been picking up on the helicopter chat. William was talking to the pilot, and she is now into the helicopter chat," Griffiths told reporters.
Aston Villa soccer team fan William, however, had something else on his mind. "I've got a quick question," he asked the coaches. "I was just wondering if Aston Villa were ever going to win the Premiership?"
Touring the facility, William also quizzed some players relaxing in a small pool: "It's quite cozy in there, isn't it? How cold is it?"
Later, before officially opening the center, William also joked, as Kate grinned broadly, "I feel tempted to cry, 'God for Harry, England and St. George,' but I really don't want lower the tone by bringing my brother into it."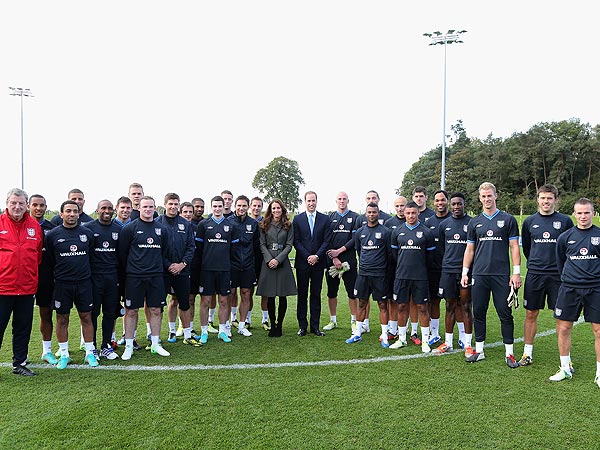 Michael Regan / The FA / Getty