He's
been with Queen Elizabeth
– albeit at a pace or two behind – every step of the way since they wed November 20, 1947.
Now, as the couple marks their 65th anniversary, the gruff, no-nonsense personality of
Prince Philip
, 91, is being celebrated in a book of his many quips and verbal faux pas.
Prince Philip: Wise Words and Golden Gaffes
has been compiled by Phil Dampier and former royal correspondent Ashley Walton.
When it comes to the secret to
his marriage
, Prince Philip has had plenty to say. Here are five of his most memorable quotes from the book on matters of the heart – and the rest of the body: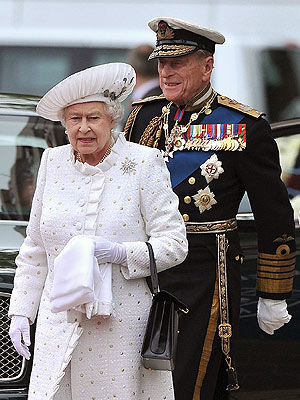 Bethany Clarke / PA / Landov
• "It's the secret of a happy marriage to have different interests."
• To a friend: "How could I be unfaithful to the Queen? There is no way she could possibly retaliate."
• To the Queen after her coronation: "Where did you get that hat?"
• After he and the Queen watched the stripping scene from the 1997 comedy
The Full Monty
: "Don't worry, she's been to Papua New Guinea and seen it all before!"
• After tenor Russell Watson provided entertainment at a palace dinner: "That was magnificent, but why do you need a bloody microphone? They could have heard you in outer space."