What's on the gift list when party-lover
Prince Harry
comes to visit you? Reach for the rum.
For the
Duke
and
Duchess of Cambridge
? How about matching bathrobes from a fabled hotel.
These are just some of the gifts received last year by the Princes and Kate during their travels on behalf of Queen Elizabeth. (For the full list,
click here
.)
While William, 30, was given a prized dagger by the King of Malaysia, he and Kate were handed robes by the historic Raffles Hotel in Singapore.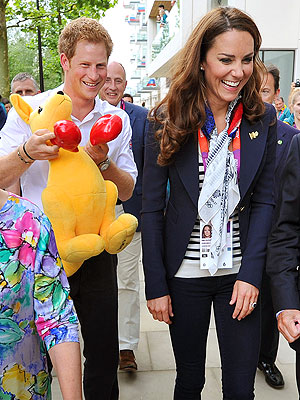 Gifts for Kate, 31, tended to be fashion choices, including eight handbags or clutch bags that came during the couple's tour of
southeast Asia,
. She was also presented with sarongs in the Solomon Islands, and a sari
in Malaysia.
During his March visit
to Brazil
and
the Caribbean,
Harry, 28, was given Brazilian soccer shirts, local liquor and, in the Bahamas, a magnifying glass. The Governor of Rio handed him a Beatles CD and a book.
And, should he want to pimp up his ride back home, he can always display the personalized license plate saying "HARRY" that he received while he toured Brazil. You go, Harry.