With a U.K. National scouts scarf tied with a "friendship" knot around her neck, and her fingers covered with a floury goo, the
Duchess of Cambridge
proved a good scout on Friday, cooking up a snack around a campfire and joining cub scouts in a training session at Tower Scout Camp, Newby Bridge, Cumbria – three hours from London by train and car.
Wearing her favorite green La Chameau rubber boots, she met with volunteers before donning a woolen peaked cap and walking outside to hear how to light a fire using flint and cotton wool.
Despite the snow and freezing cold, she joined the scouts to make doughy twists, using flour, water, cooking oil and a little sugar before wrapping the mixture around a stick and toasting in the fire,
"It's actually ... not bad, if you're desperately hungry," Kate kiddingly told her team after a taste. "It's quite sugary."
Following lunch, Kate was due to help hoist some 8- to 10-year-olds as they climbed some trees, just like she does with a local group in north Wales, where she and William have been living while he works in the RAF.
Addressing a group of scouts Friday, Kate said, "Are you feeling strong?"
"She was passionate about doing this course today," says Scouts assistant director Simon Carter. "Other scout leaders who have spoken to her say she loves asking questions. … She wants to get as much information as possible to take back with her."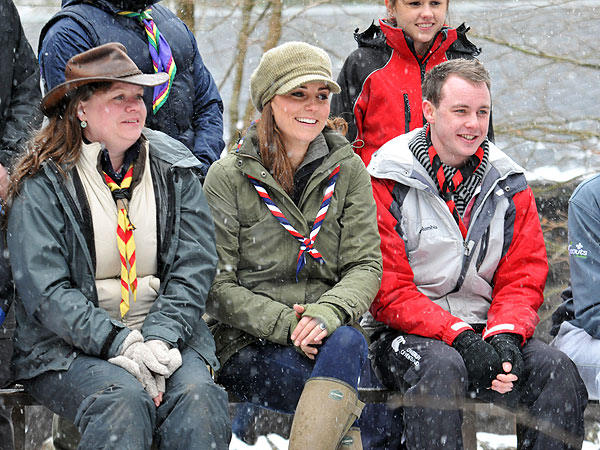 The Scout Association / PA Photos / Abaca