Have
Prince George
's first christening gifts been revealed?
Cousin of
Prince William
India Hicks has created some special jewelry and is set to send the littlest prince – who was
born on July 22
– a set of cufflinks.
The jewelry, monogrammed with the letter G, is part of a collection the former model-turned-lifestyle guru and jewelry maker has created in her Bahamian home.
There is no tradition of giving presents at birth within the royal family, but gifts are given at the christening, which is likely to happen in the fall.
A goddaughter of Prince Charles, India's
Love Letters line
is inspired by her father David, a decorator and designer.
"He made a geometric alphabet and I have translated that into jewelry," Hicks, 45, told PEOPLE. "The alphabet that I have done has a strong link with my past but yet is very much in the present. At a glance they could look like hieroglyphics – they are not the obvious letter."
Adds Hicks, "Everybody loves something that's personalized and there certainly is a great tradition within the royal family of monogramming, going back over the generations, so it just seemed an ideal present."
Hicks, who lives with partner David Flint Wood, 52, and their five young children, has watched how the royal baby has even "captivated" people on their small island.
"Over the years we have seen William grow from a mischievous monkey into a reassuringly stable man, who values his close relationships with family and friends and honors his position with sensitivity and frankness," she says.
And one of
baby George's
names is Louis, which is believed to be in honor of Earl Louis Mountbatten, Hicks' grandfather.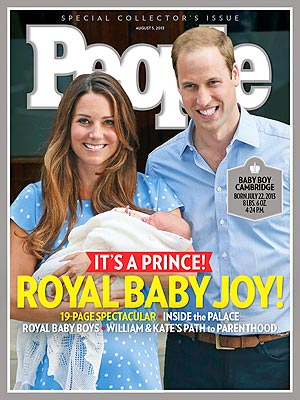 Hicks says they "are deeply touched that this new royal addition carries my grandfather's name. My grandfather was not only a beloved uncle, but also mentor to Prince Charles."
As William and
Kate
, both 31, begin these post-birth days at the Middleton family home, Hicks – who was one of Princess Diana's bridesmaids while her mother was an attendant to Queen Elizabeth on her wedding day – sees the upbringing of George being different from previous generations.
"There is a change in the way the royal family are able to bring up their children. Neither is right or wrong – it's just  a change … Now, we are much more hands-on as a generation. The tide has turned somewhat in our feeling towards that. It would be much more easier for someone like Kate to say 'it would be unforgivable to leave my children behind,' for example."
Can't get enough about the royal baby? Be among the first to know the news!
Sign up below for our daily newsletter to find out about the new addition and other special offers – so you'll be the first to know everything from the baby's name to how the new mom and dad are adjusting to parenting.