It is an important day in
Prince William
's royal career.
On Thursday, the Duke of Cambridge took on the grand ceremonial role of bestowing knighthoods for the first time, stepping in for his grandmother, Queen Elizabeth, to carry out one of 25 investitures that take place at Buckingham Palace each year.
It is a sign of the future king's
increasingly formal role
in the work of the family after ending his military service in September.
Dressed in his ceremonial RAF uniform, William entered the grand Ballroom attended by two Gurkha Orderly officers. Already awaiting them on the dais were five members of the Yeoman of the Guard, one of the oldest royal military corps in the world, dating back to 1485.
In front of the family and friends of 88 recipients of various honors, he stood to attention with his hands by his side as the national anthem, "God Save the Queen," played. Then, holding out both arms, he said, "Ladies and gentlemen, please be seated."
Slight Mishap
His first honor was given to Professor Dame Nicola Cullum, who was made a Dame Commander of the Most Excellent Order of the British Empire for her services to nursing research and wound care.
But William's first big moment did not go off without a slight fumble. "My medal did fall off immediately," Dame Cullum, a professor of nursing at Manchester University, tells PEOPLE. "I'm sure it was my fault. I think it was the way I curtsied."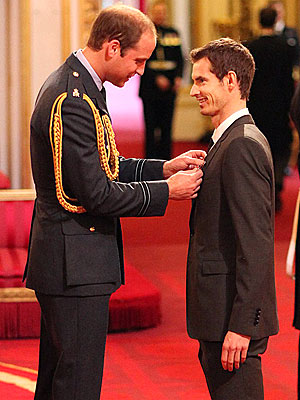 Still, she adds, "I couldnt tell it was his first [investiture]."
Next up was another potentially tricky task: Taking King George VI's sword from an attendant, William dubbed his first knight. As Sir Kenneth Gibson, who was receiving a knighthood for services in education, knelt in front of him, the prince made a tap first on the left shoulder, followed by a sweep up and over to the right.
While an orchestra made up of members of the bands of the Household Division played popular classics, William, 31, also knighted Sir Anthony Salz before moving through the various other recipients, including members of the armed forces, police officers, public servants and charity workers. One woman received her Order of the British Empire medal for "services to red squirrel conservation on the Isle of Wight."
A Personal Touch
True to his approach to royal duties, William – who will celebrate his son
Prince George
's
christening Oct. 23
– offered a personal touch to the ceremony. As each honoree was announced, he stepped forward, smiled and chatted with them – and they parted with a shake of the hand.
The most notable recipient was tennis champion
Andy Murray
, who was at the palace to receive his medal. As Murray stepped forward, William, an avid sports fan, smiled, and the pair spoke animatedly for a minute.
"He asked me about my recent back surgery, which I had a few weeks ago, and how I was feeling after Wimbledon," Murray said after the ceremony. "I teased him a bit as he had sent me a note before Wimbledon wishing me luck, and his wife had written me a letter afterwards. Her handwriting was beautiful, and I told him how fantastic it was compared to his."
Added Murray of the prince, "He seemed very relaxed today."