Call them DJ Willkat.
Prince William
and
Kate
got down with young rap artists, dancers and other musicians at an Australian youth center in Adelaide on Wednesday – though they each tried to pass off the responsibility when it came to deejaying on the turntables.
"It's all yours," William told his wife – who responded by announcing with a laugh, "William's got lots more experience than I have."
Still, Kate, dressed in a pale pink low-cut Alexander McQueen dress, proved a good sport and agreed to go first. Coached by DJ Shane Peterer, 28, she soon got into the swing of things, giving a thumbs up as her audience inside Northern Sound System cheered her on.
Next came William's turn, scratching to the beat of a track called "Gourmet."
To be honest, William was not quite as smooth as his wife, prompting Peterer to suggest the prince not give up his day job.
"She was fantastic," the deejay later told reporters, "but he can fly a helicopter."
For his part, William told Mark Reilly, a 19-year-old rapper, "I quite like house music. I like my house music. I like a bit of rock and roll, a bit of R&B."
He added, "I'm not a big heavy metal fan. I'd like to be but I'm not."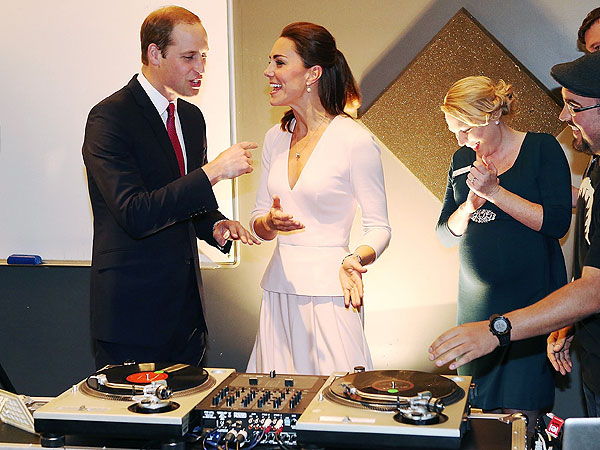 Outside, the couple met the Aerosol Angels, which encourages young people to express themselves by creating graffiti art (under controlled conditions).
Here, William was asked to add a bit of sky to a mural. Said Casey Zechef, 16, "He said yes, so I got him to paint a bit of blue. He loved it. He didn't want to stop. He said it was fantastic – it was so easy."
In fact, Zechef "was very surprised at how good he did. When you use a spray can for the first time, some people don't use it so well … But he was a natural."