Princess Kate
stepped out in London on Sunday for her first formal solo event on behalf of her new military-linked association.
Wearing a cornflower blue Alexander McQueen coat, blue suede heels and a Lock & Co. hat, the Duchess of Cambridge attended a special service to mark the 75th anniversary of the Royal Air Force Air Cadets and pledged to help bring more volunteers on board.
It was the first of several events that are planned throughout the year to both mark the anniversary and she will be aiding the bid to improve recruitment and increase the number of adult volunteers who keep the Air Training Corps' 1,000 squadrons running.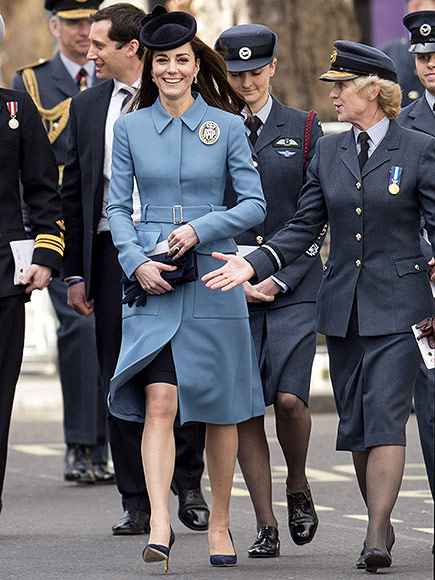 Mark Cuthbert / UK Press / Getty
Kate also sported a giant Dacre diamond and ruby RAF brooch used to be given to the best female cadet. 
During the event, Kate told cadet Lucinda Conder, 19, that she had shown George, who is 2-and-a-half, pictures of Spitfire fighter planes after a royal engagement.
"He is now obsessed with the air cadets and wants to join," Ms. Conder, from Hammersmith in west London, told reporters on Sunday.
Conder also said she thinks having Kate involved in the RAF will encourage female cadets.
"It's brilliant to have Kate involved," she told reporters. "It's just really nice to have a female patron for us girls. Kate is passing the responsibility down the royal family. And it's also nice to have a new, refreshing, younger patron. I think she's going to bring alive the air cadets again. 



The duchess was joined at the service at St. Clement Danes, the RAF church in the Strand, by the Commandant of the ATC, Air Commodore Dawn McCafferty, and the organization's ambassador British TV presenter and trained pilot Carol Vorderman. 

• Want to keep up with the latest royals coverage? Click here to subscribe to the Royals Newsletter.

In a message in the order of service Kate wrote, "The Air Cadets bring genuine benefit to our young people and indeed wider society."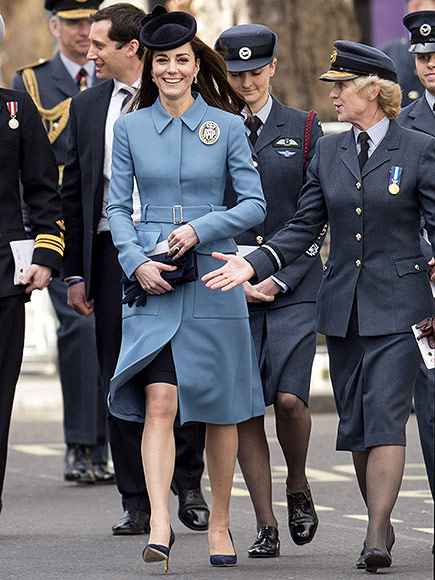 Mark Cuthbert / UK Press / Getty
Carol Vorderman, who is a qualified pilot, said she had been fascinated by the RAF ever since she was at Cambridge University, when she was not allowed to join the air squadron because they did not admit women. 
She told reporters that Kate was an ideal figurehead for the cadets. 
"Her husband is a pilot. Her brother-in-law is a pilot. Her father-in-law is a pilot. Her mum used to work in an airline. She obviously has a great appreciation of the military and enthusiasm for youth."
Kate, 34, knows all about the importance of adult helpers as she
pitched in
at a local Scouts group when she and husband
Prince William
lived on Anglesey, in North Wales.
She
took over the role
as Honorary Air Commandant from
Prince Philip
, 94, just before Christmas, ending his 63-year association with uniformed youth organization and marking her first patronage with a military link.
She arrived at the RAF Church at St Clement Danes, London and after the service  headed to a reception held nearby at the Royal Courts of Justice.
The top ATC cadets of 2015, Cadet Warrant Officer David Timson, 19, of 1461 (Wigston and District) Squadron and Cadet Warrant Officer Lucinda Conder, 19, of 344 (Fulham) Squadron, escorted Kate.
Conder thanked her for coming and said, "I love the Air Cadets, the opportunities it offers are brilliant and today is so special for us – we marked our 75th anniversary in true royal style."
The ATC which was established in 1941 to help train young men in aviation skills before they joined the RAF to defend their country during World War 2.
This week, Kate will be throwing herself into promoting a different cause and interest – the mental wellbeing of youngsters as she supports
Children's Mental Health Week.