Rugby-loving
Prince William
traveled to Wales on Friday to support the country's team.
Heartily singing the Welsh national anthem, the royal, 33, was at the Principality Stadium in Cardiff for the match against France in the annual Six Nations championship.
William, who lived with
wife Kate
in north Wales
when they were newlyweds
, spoke of his "passion" for the team.
"I'm thrilled to be back again. It's fantastic when you get in the stadium and you hear the passion and the excitement. And when the Welsh anthem goes, you know you're in Cardiff," he said soon after arriving to the stadium.
"They've done a seriously good job with the World Cup," he said of the national team. "It was a real shame that South Africa pipped them in the last five minutes. I was quite upset about that as I'm sure everyone was. But they covered themselves in glory through the whole tournament – they did seriously well.
"In the Six Nations they've started strongly and they need to continue. There's a real strength of unity in that team."
The prince also met with injured former rugby players before the game.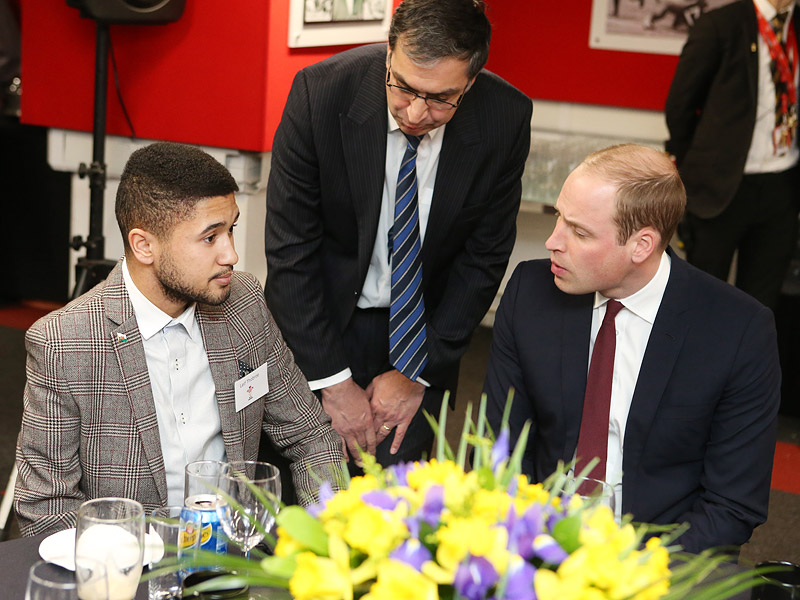 Huw Evans / REX / Shutterstock
The appearance comes at the end of a week that saw William's office and his employers at his air ambulance charity
defend his work schedule
as it emerged that he worked a 20-hour week. The stadium appearance marked his third official public royal duty of 2016.
William, who is vice royal patron of the Welsh Rugby Union (WRU) and patron of the Welsh Rugby Charitable Trust, attended a reception for injured players and their families supported by the trust.
•
Want to keep up with the latest royals coverage? Click here to subscribe to the Royals Newsletter.
The Welsh Rugby Charitable Trust, which was established in 1972, supports players and their families who have been severely injured while playing rugby in Wales. The trust offers practical support, including specially adapted vehicles and wheelchairs, as well as pastoral care and social opportunities for the former players and their families.
The WRU regularly invites injured players to attend Wales' home rugby internationals at Principality Stadium. Eleven beneficiaries of the trust, and their guests, were set to attend the Wales vs. France game.
During the Rugby World Cup in 2015, William and Kate followed Wales closely, while his brother
Prince Harry
, 31,
supported neighboring
England.
It was also announced Friday that William and
wife Kate
are set for a high-profile visit to the Taj Mahal during their
upcoming tour to India
.