Princess Kate
can't wait until the day her son
Prince George
will rule the court – the tennis court!
The royal mom of two is ready to get her 2-year-old out on the family's
new tennis court
– and she was shown just how to get him into the game by a sporting pro during her
visit to Scotland
last week.
Using balloons and mini beanbags, Kate, 34, took part in a
lesson in how to inspire kids
, and she was keen to find out when George might be ready to pick up a tennis racket.
"She was talking about at what age can a child hold a racket," tennis mom and coach Judy Murray told PEOPLE. "It becomes about strength."
"I was saying to her, with children of George's age, you start with a balloon and the hand," said Judy, 56, who runs the
workshop
,
Tennis on the Road
, which
Kate took part in
at Craigmount High School.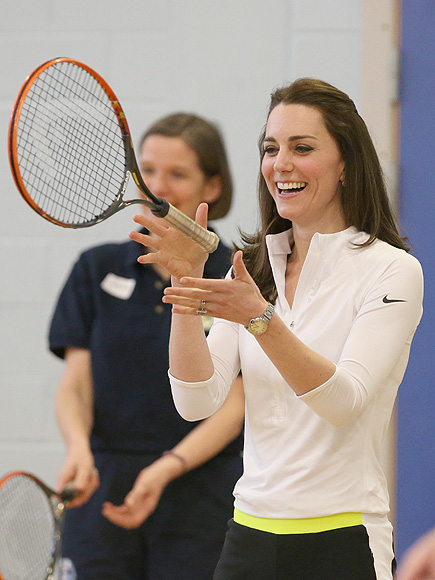 After graduating from a large balloon, a toddler should go to "a smaller one so it moves faster and you have to speed up the reactions," she continued.
Judy, the mother of British tennis star
Andy Murray
, says she advised, "If you want to move faster than that, then fill it with a couple of grains of rice before you blow it up and it drops quickly. The game does the teaching for you.
"She was keen to be able to understand how she could help her children to enjoy sport."
•
Want to keep up with the latest royals coverage? Click here to subscribe to the Royals Newsletter.
It's thought that Kate is set to take over for
Queen Elizabeth
as royal patron of the All England Tennis Club (Wimbledon) and that would be "a huge thing for tennis and for women's sport," Murray said. "It's very clear she loves tennis, both watching and playing, and that can only be good for the sport."