Just months after
their playful visit
in Washington, D.C.,
Prince Harry
and
First Lady Michelle Obama
will reunite at the royal's
Invictus Games
, to be held May 8-12 in Orlando.
Alongside
Dr. Jill Biden
, the First Lady will be on hand to support Team USA during Harry's landmark Paralympic-style games for wounded veterans.
Praising the prince's lead role as an advocate for military veterans, Mrs. Obama tells PEOPLE exclusively that she and Dr. Biden are set to cheer from the stands at this year's games.
"With Prince Harry's leadership, I hope that the world will join us in celebrating these incredible athletes and supporting all our service members, veterans, and their families," the First Lady says.
This won't be the first time Mrs. Obama and Prince Harry have
teamed up
on this issue. She joined the royal at Fort Belvoir in Virginia in October as he came stateside to promote his
Invictus Games
. The duo met with veterans and even attended a memorable wheelchair basketball game together.
When you get seated next to the cutest boy in class pic.twitter.com/pNC1h0QaxI

— GIF The News (@NowThisGIF) October 28, 2015
"I'm excited to cheer on the Warriors of Team USA in Orlando as they represent our nation and their brothers and sisters in arms," she says.
Mrs. Obama adds that service members and those who care for them are "some of the most courageous, resilient people I have ever met" and their participation in May's games is an "excellent example of their determination, commitment and grit."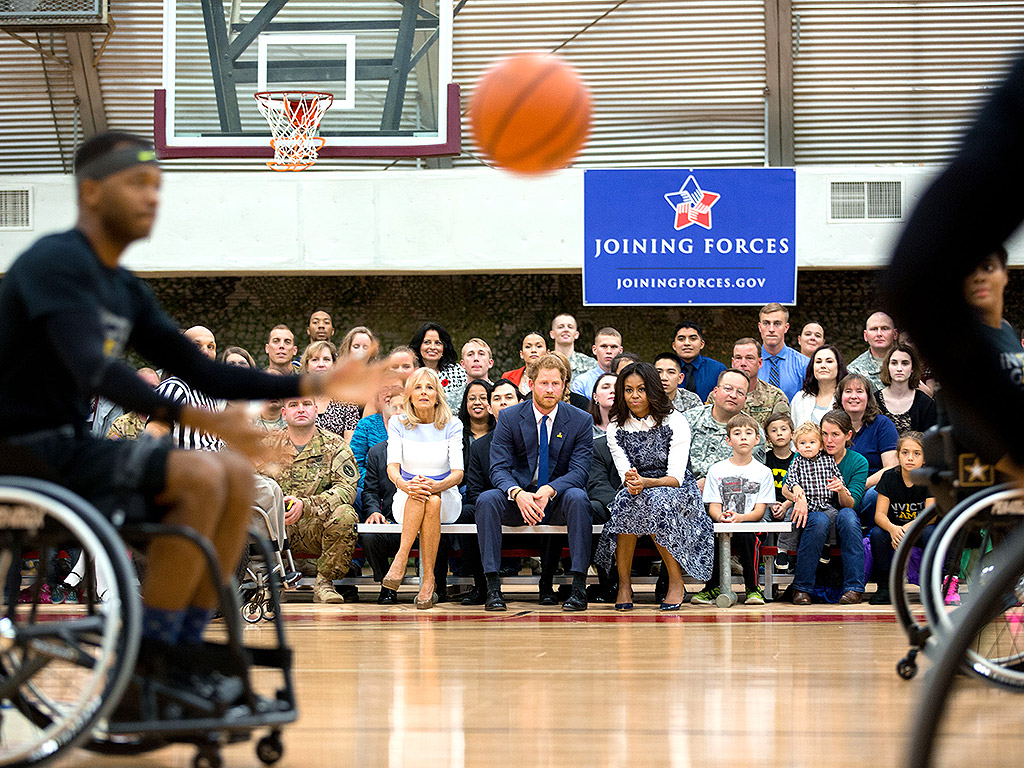 Official White House Photo by Chuck Kennedy
Dr. Biden, who is Mrs. Obama's partner in their seven-year-old Joining Forces initiative to help veterans, active-duty personnel and military families, led a presidential delegation to the
inaugural games
in London in September 2014.
Dr. Biden tells PEOPLE she is "excited" for the first whistle to sound in the 2016 games.
"One of the things that never ceases to amaze me is the spirit of our wounded warriors. They never lose their competitive drive and dedication that make them some of the finest warriors the world has ever seen," Dr. Biden says.
"The Invictus Games offer our wounded-warriors a chance to carry their country's flag in competition against other athletes who also know about duty, loyal and sacrifice, and show the spirit of our wounded-warriors, their perseverance and their resilience." •
Want to keep up with the latest royals coverage? Click here to subscribe to the Royals Newsletter.
For his part, Harry, who
served two tours of Afghanistan
has been
building up the excitement of the games
and
joined some hopeful competitors
as they tried out for the games in Bath, England, in January.