Prince Carl Philip
and
Princess Sofia
are in nesting mode.
The royal
parents-to-be
–
who are due any day now
– are leaving their luxury apartment on the fashionable Stockholm island of Djurgarden to move 14 miles west into the private grounds of the royal palace.
They'll live in Sjöpaviljongen, a small, detached 18th-century house on two floors, located less than a quarter of a mile from the main palace building itself.
The property, formerly used to house staff members of the royal household, was converted for use by another young family: Prince Carl Philip's big sister
Crown Princess Victoria
, her husband
Prince Daniel
and their
adorable daughter Prince Estelle
.
But now that Princess Estelle, 4, has a
new baby brother
, the Crown Princess's family are enjoying life at Haga Palace, leaving Sjöpaviljongen (Lake Pavilion) open.
"It's all about security," a royal family spokesman told the Swedish newspaper
Expressen
.
Sofia and Carl Philip can make breakfast in their own kitchen and have the palace kitchen deliver lunch and dinner at their convenience.
The new family will likely remain there at least a year, until renovations on their dream home Villa Solbacken in Djurgarden are finished.
•
Want to keep up with the latest royals coverage? Click here to subscribe to the Royals Newsletter.
Carl and Sofia have also been busy sending out (belated!)
wedding thank-you notes
.
The couple, who
tied the knot
in June 2015, shared a gorgeous photo from their lavish wedding, along with a sweet message: "We wish to extend our sincere gratitude for all the consideration show to us on the occasion of our wedding. We highly appreciate your thoughtfulness."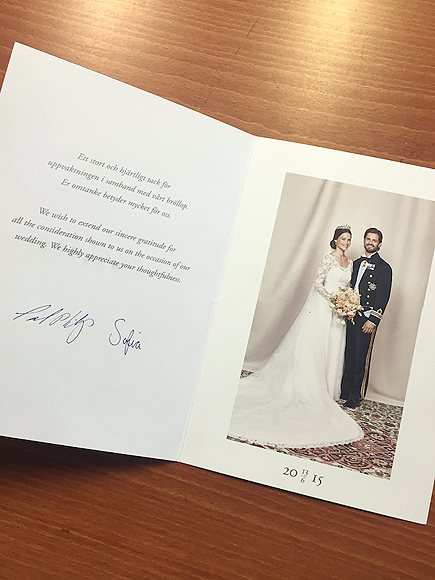 Although popular myth states a couple has up to one year to send thank-you notes,
Anna Post
, the great-great-granddaughter of etiquette guru Emily Post, says all notes should actually be sent within three months of returning from your
honeymoon
.
But we're sure all will be forgiven – after all – between the birth of a
couple Swedish royal babies
, their own
pregnancy announcement
and a host of appearances and events, Carl and Sofia have been royally busy!