When
Prince William
and
Princess Kate
got
married
, William said, she told him the first place she wanted to visit: India.
This weekend, that's exactly
what the royals did
, as William explained in a speech Sunday night in Mumbai, where he and his wife attended
a red carpet party at the grand Taj Mahal Palace Hotel
.
"Two children and five years later, we have finally made it ­and we are both honored to be here," William, 33, said.
In his remarks, the royal thanked the many attendees and performers for a "stunning evening" and offered his family's condolences for the recent fatal fire
at a temple in Kollam
. He spoke of the United Kingdom's historic connection with India – and, now, a partnership between the nations.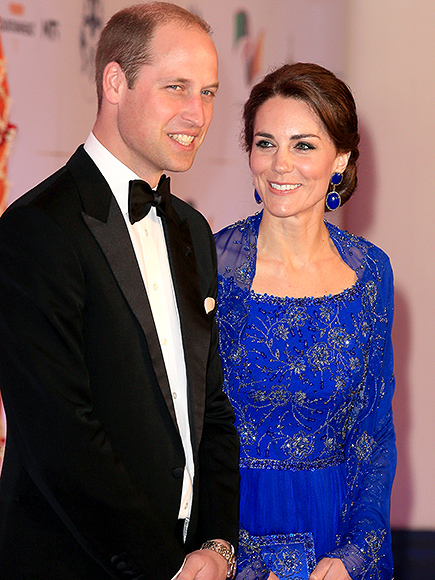 "My family has a long and proud connection with India, and although our relationship has evolved, my family's high regard for India – ­the largest country in the Commonwealth –­ remains unchanged," William said.
"It seems fitting that Catherine and I start our journey from here, a short distance from the place marked by the famous Gateway of India, where so many people, including my great-great-grandfather, have arrived."
Of course, their trip has not been all black-tie affairs. The couple took time on their first day
to play a game of cricket
, where Kate, 34, batted and fielded in a tunic-inspired dress, by Mumbai's Anita Dongre, and a pair of sky-high wedges.
•
Want to keep up with the latest royals coverage? Click here to subscribe to the Royals Newsletter.
Kate's Sunday ensemble also had local influences: She wore earrings by Indian jeweler Amrapali and the gown's beading was done in India.

As William said that night, "Catherine and I embark on a journey to get to know the vibrant India of the 21st century. An India whose traditions, culture and civilization go back thousands of years, and yet co-exist with an India that is young, creative, entrepreneurial ­ an economic, cultural and political powerhouse, and an established democracy under the rule of law."
William also thanked the British Asian Trust, the charity founded by his father,
Prince Charles
, for helping organize Sunday's event, which raised funds for several children's charities; and he highlighted the work of three Indian charities in "working to overcome severe problems that many young people face."
"On a personal level, Catherine and I are full of admiration for this diverse and democratic society," he said. "No one can come here without being awed and amazed; no one can come without a sense of excitement about all that India has achieved in the past and the extraordinary promise it holds for the future."
•
Reporting by SIMON PERRY