On the second day of their
week-long tour of India
,
Prince William
and
Princess Kate
honored the country's founding father, Mahatma Gandhi, with a poignant visit to the site where he was assassinated in New Delhi.
As a group of school children sang in the background, the royal couple took a serene walk through the memorial garden. The Birla House, where Gandhi spent the last 144 days of his life, was turned into a museum and memorial to pay tribute to the man who led the independence movement.
Gandhi held daily interfaith prayer meetings in the garden, and he was on his way to one when he was shot to death on January 30, 1948.
•
Want to keep up with the latest royals coverage? Click here to subscribe to the Royals Newsletter.
After strolling quietly through the garden, Will and Kate removed their shoes before paying their respects and sprinkling dark pink rose petals on the memorial.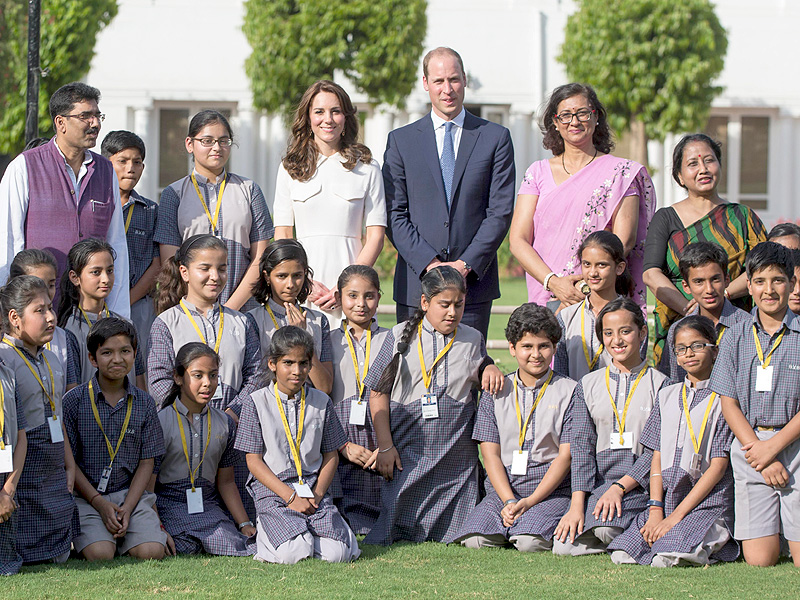 PRAKASH SINGH / AFP / Getty
Will and Kate also met with the children from the Bharatiya Vidya Bhavan Mehta Vidyalaya School. Kate told them she loved the song and they sung it for her again.
"They loved to spend time with the children. It was wonderful," Rajdeep Pathak, program executive of the museum, said.
Eleven-year-old student Nikki Gautam told PEOPLE: "She loved our performance and our confidence."
"She is very beautiful. When she came in front of us, we were very excited, very nervous," she added. "It's a pleasure that we got the chance to meet Their Royal Highnesses."
While inside the Birla House, Will and Kate viewed Gandhi's remaining possessions – his reading glasses, walking stick, some cutlery and his bed.
"The Duke and Duchess are grateful to have the chance to learn about this great man's life in the place where he spent his final years," a spokesman for the royal couple said.