Time to cut the cake – and field a personal question or two.
Prince William
and
Princess Kate
made a picture-perfect appearance at a celebration honoring
Queen Elizabeth
's
90th birthday
.
•
Want to keep up with the latest royals coverage? Click here to subscribe to the Royals Newsletter.
Praising her as "a remarkably energetic and dedicated guiding force for her family," he said he was "so glad" that his children with
Princess Kate
, 2-year-old Prince George and nearly 1-year-old Princess Charlotte, were "having the chance to get to know"
their beloved "Gan-Gan"
.
After cutting a cake – with a sword! – on their
second day in India
at a garden party in Delhi on Monday, Kate –
in a Temperley London dress
– was asked by fellow attendee Professor Bulbul Dhar-James her secret to looking so trim.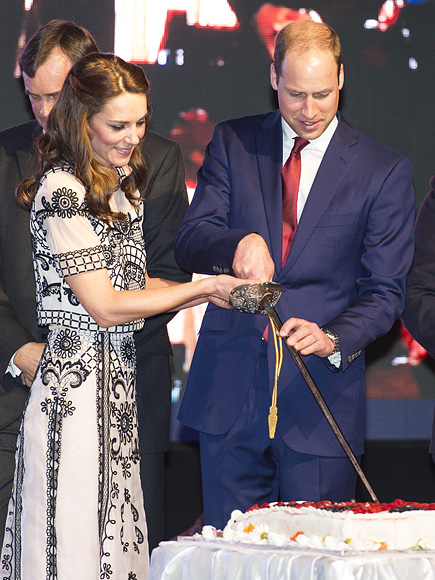 "We said, 'How do you lose all the weight after having two kids?' " Dhar-James told PEOPLE. "And she said, 'I am running after my kids!' "
Dhar-James then asked her how she kept cheery through all the engagements. "I asked her, 'Aren't you tired of smiling?' And she said, 'I'm just reciprocating. Everyone is so warm.' "
The professor also told Kate she looked even better in person than in pictures, and Kate thanked her for the compliment. "She was so gracious," Dhar-James said.
It was a garden party with a kick. Whereas Buckingham Palace events hosted by the Queen usually serve mini sandwiches and slices of cake and tea, the lawn was ringed with stalls serving Hendrick's gin, Johnny Walker black label whisky, and Jacob's Creek Chardonnay or Shiraz Cabernet.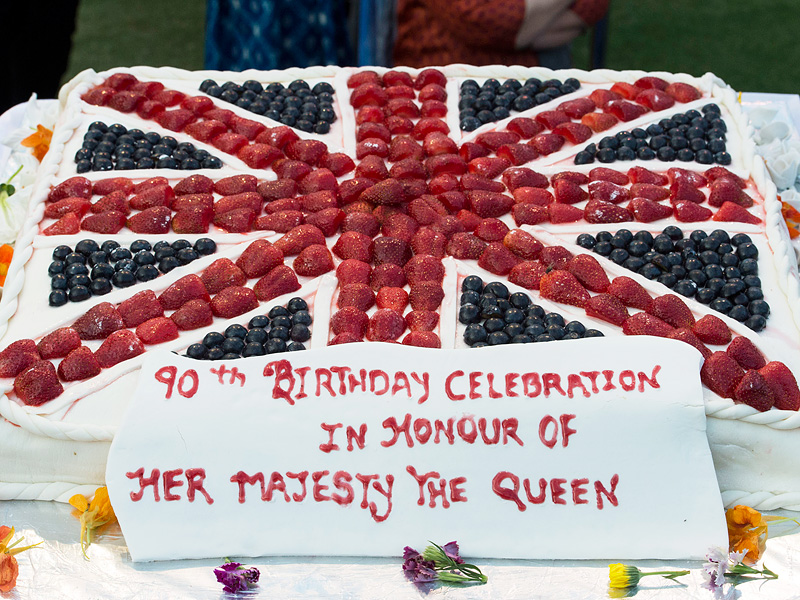 Mark Cuthbert / UK Press / Getty
Deepa Thomas Sutcliffe, an executive with Nissan who is married to Paul Sutcliffe from the British High Commission, said she'd chatted with Princess Kate about
her late mother-in-law
.
"I told the Duchess I have been a huge royal fan my whole life and I adored Princess Diana," said Thomas Sutcliffe. "She said, 'Unfortunately I never had the pleasure of meeting her.' "
"I am star-struck actually!" said Thomas Sutcliffe. "I never thought I'd get to speak to her. I think the royal couple are gorgeous, down to earth and very modern. They are a big hit so far. India is very heavily influenced by the British and there is a huge respect for the British royal family."
"They are having an absolutely great time," says a royal source. "They've loved their time here."