Prince William
and
Princess Kate
enjoyed their
most romantic outing in India yet
– at a fireside harvest festival on Tuesday evening.
The couple enjoyed a colorful performance of dancing and drumming at a Bihu festival by the Diphlu River Lodge in the Kaziranga National Park, in Assam. The festival marks the end of the harvesting season in the month of Maagha.
Kate, in a green patterned Anna Sui dress – her
third look of the day
– sat with William around a sandy enclosure that had been made sticky by a downpour about half an hour earlier.
Among the drummers was a 3-year-old boy who was waving to the beat alongside his dad – a sweet moment that prompted smiles from the royal parents.
Royal Romance! Princess Kate and Prince William Glow at Campfire Evening
"They were so happy to see him," Ranjinee Bhukan of the British deputy high commission told PEOPLE. "They were really watching him. I'm sure they were remembering their little one" – 2-year-old Prince George, who is
back home in England
with his sister, nearly 1-year-old Princess Charlotte.
At the end of the performance, William and Kate sought out the boy, with William offering praise: "You were very energetic!"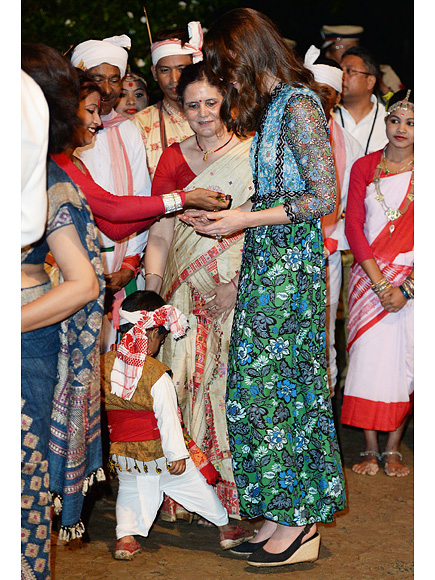 James Whatling / Splash News Online
Later in the evening, that same mischievous little boy playfully stepped on Princess Kate's black wedges with his own muddy shoes – but we're sure the royal mom didn't mind!
The Rongali Bihu – or Festival of Happiness – is a spring festival marking the end of harvest and the beginning of the new year tomorrow.

The royals, looking relaxed around the fire, clearly enjoyed themselves.
"They are a lovely couple," said Bhukan. "I thought I would be overwhelmed and I might get tongue-tied. but when I saw them they were so friendly and so normal."
When they met the musicians afterward, William tried his hand at playing the gogonao. "Is there anything you can't play?" he asked Krishna Kanta Baruah. "Very unusual, brilliant."
•
Want to keep up with the latest royals coverage? Click here to subscribe to the Royals Newsletter.
The evening capped an emotional day during which William and Kate
met vulnerable children
and heard heart-wrenching stories faced by women and girls in the country.
After
staying at the grand Taj Mahal Palace Hotel
in Mumbai
on the first leg of the trip
and the residence of the British High Commissioner in Delhi, the couple are now staying in the park for two nights as they take a closer look at the area's conservation efforts.