We knew
Princess Kate
couldn't resist the opportunity to
pack a certain Bhutanese style
– and we were right!
Not long after stepping off the plane in the magical Himalayan country of Bhutan, Kate had slipped out of her
Emilia Wickstead yellow coat dress
(a re-wear with the addition of a new matching belt) and straight into a Bhutanese "kira" – the traditional dress still proudly worn by many Bhutanese women today.
The chosen design is "simple and not very intricate but very beautiful," Bhutanese weaver Kelzang Wangmo told PEOPLE through a translator.
•
Want to keep up with the latest royals coverage? Click here to subscribe to the Royals Newsletter.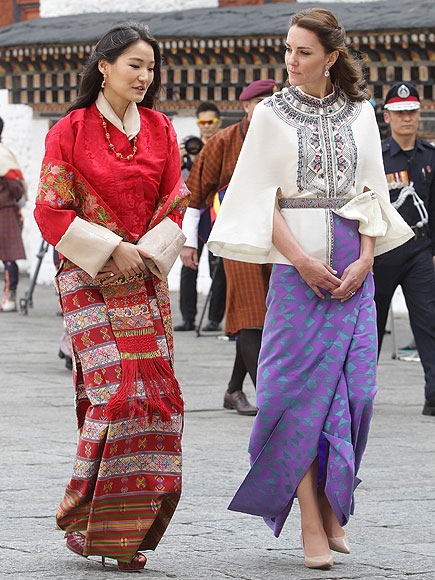 Danny Martindale / WireImage
This was Mrs Wangmo's reaction when we told her the news: pic.twitter.com/mbgdAKemp1

— Kensington Palace (@KensingtonRoyal) April 14, 2016
With a decadent purple hue and a delicate blue floral pattern, the fabric takes up to two months to make, despite the simplicity of the piece.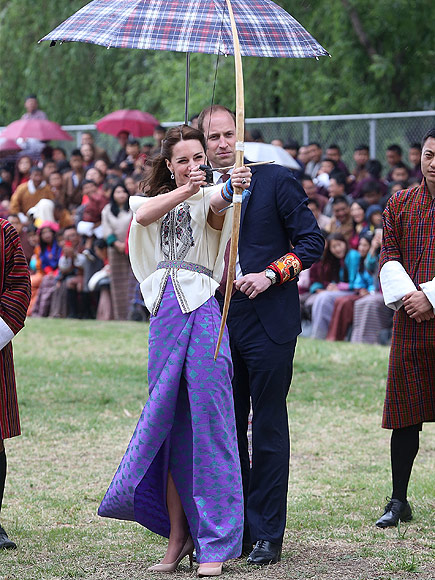 Danny Martindale / WireImage
Putting her own spin on the look, Kate chose not to wear the full kira, which is normally draped around the entire body and secured with a brooch and a hand woven belt. Instead, Kate opted to wear a sarong-style kira skirt with a contemporary Paul & Joe wool cape, which was embroidered in India and retails for $520.
"Normally the kira is not really a skirt, it is more of a dress because it comes right up to the neck – which is the traditional way of wearing it," explains the translator. "But some Bhutanese women wear a half kira, which is more modern and similarly the Duchess has chosen this style."